Book of Shadows
[ Wednesday 27 September 2023 - bijna volle maan - Log in/registreer - Zoeken ]
Home
Nieuws
Gezondheid
Bewustwording
Voeding
Beweging
Pilates
Tai Chi
Yoga
Introductie
Geschiedenis
Stromingen
Yoga van Pranayama
Yoga van Asana
Yoga van Dhyana
Literatuur
Spiritualiteit
Alternatief
Engelen
Introductie
Functies
Literatuur
Gidsen
Introductie
Contact
Oefeningen
Literatuur
Intuitie
Introductie
Helderweten
Helderzien
Helderhoren
Heldervoelen
Helderproeven
Helderruiken
Oefeningen
Literatuur
Kleuren
Re´ncarnatie
Wierook
Introductie
Soorten
Houders
Literatuur
Divinatie
Astrologie
Introductie
Geschiedenis
De Dierenriem
De Drie Pilaren
Literatuur
Numerologie
Pendelen
Introductie
Waarmee
Oefeningen
Literatuur
Runen
Introductie
Runentekens
Literatuur
Tarot
Introductie
Functie
Geschiedenis
Kaarten
Legpatronen
Decks
Oefeningen
Literatuur
Healing
Aura
Introductie
Lagen
Oefeningen
Literatuur
Chakra
Introductie
Kleuren
Oefeningen
Literatuur
Edelstenen
Energie
Reiki
Introductie
Geschiedenis
Grandmasters
Stromingen
Inwijdingen
Graden
Behandeling
Literatuur
Paganisme
Dru´den
Hekserij
Magie
Paganisme
Wicca
Paranormaal
Entiteiten
Ouijabord
Introductie
Borden
Glaasje draaien
Literatuur
Telekinese
Telepathie
Introductie
Documentatie
Oefeningen
Literatuur
Praktijk
Achtergrond
Dienstenaanbod
Tarieven
Reserveren
Contact
Community
Agenda
Columns
Chat
Polls
Forum
Online divinatie
Tarot
Webshop
Contact
De kaarten
______ Orakel
Het zijn niet zozeer de kaarten die de geheimen onthullen. Het is je intuitie die je ingeeft wat je vertellen of weten moet. Alle informatie die van het hogere afkomstig is kun je zelf ontvangen. Daar heb je eigenlijk niets voor nodig; geen ogen, geen oren en ook geen tarot kaarten. Contact maken met het hogere gaat bij veel mensen echter niet spontaan. Verschillende orakels, zoals de tarot, zorgen ervoor dat die verbinding wel tot stand kan komen. De tarot kaarten werken als een trigger en zorgen ervoor dat de informatie gaat stromen.


______ Arcana's
Velen hebben vast wel eens een aantal tarotkaarten gezien.
Een pak tarotkaarten bestaat tegenwoordig meestal uit 78 kaarten met elk een eigen afbeelding en een bijbehorende betekenis. Zo'n pak tarotkaarten (wat we een deck noemen), kan je in 2 groepen verdelen: De Grote Arcana en de Kleine Arcana. Letterlijk vertaald betekent Arcana: verborgen geheimen. (Arcana is het meervoud van arcanum.)


______ De Grote Arcana
De Grote Arcana bestaat uit de eerste 22 kaarten van het deck (0 t/m 21), te weten:


De Dwaas
Gerechtigheid
De MagiŰr
De Gehangene
De Hogepriesteres
De Dood
De Keizerin
Matigheid
De Keizer
De Duivel
De Hogepriester
De Toren
De Geliefden
De Ster
De Zegewagen
De Maan
De Kracht
De Zon
De Heremiet
Het Oordeel
Het Rad van Fortuin
De Wereld
Deze kaarten worden ook wel troefkaarten of sleutelkaarten genoemd. Wil je meer over een kaart weten, klik dan op de naam van de kaart.

Iedere kaart uit de Grote Arcana heeft een naam en een nummer. Van sommige kaarten kun je eenvoudig uit de naam hun betekenis achterhalen zoals bij Gerechtigheid of Kracht. Andere kaarten hebben grote symboliek in zich verscholen, zoals De Zot en De Dood. Ook zien we kaarten die vernoemd zijn naar hemellichamen: De Ster, De Maan, De Zon. Ondanks hun titel dragen niet alle kaarten de letterlijke betekenis van hun naam. Kijk maar eens naar De Dood. Hoe huiverig mensen voor het trekken van deze kaart ook zijn hij brengt slechts een boodschap, niet de dood zelf.

Door de Grote Arcana heen zien we een lijn van onze menselijke levenscyclus. Er wordt zelfs gezegd dat het De Zot is die deze reis door de Grote Arcana aflegt. Hij staat aan het begin als kaart 0, maar rond het geheel ook af als 23e kaart. Hij onderbreekt zijn tocht over het pad des levens bij iedere volgende kaart die hij tegenkomt. Pas als hij de eigenschappen van de kaart volledig beheerst, vervolgt De Zot zijn reis naar spirituele verlichting.
Zo zouden ook wij dit pad bewandelen. Volgens Jung zijn de kaarten uit de Grote Arcana archetypes die inherent zijn aan menselijke karakteristieken. Wanneer wij ons bewust worden van deze persoonlijkheden, hen volledig begrijpen, dan pas kunnen wij verder ontwikkelen als mens.

Wanneer er een kaart uit de Grote Arcana verschijnt in een legging, verdient deze extra aandacht. Sta er bij stil dat deze kaarten grote invloeden beduiden en wuif deze niet weg. Ondanks dat het kan gaan om basiskarakteristieken van iemands persoonlijkheid, wil dat nog niet zeggen dat wij deze eigenschappen volledig begrijpen of beheersen. Liefde bijvoorbeeld (VI De Geliefden) kent vele vormen. Kunnen wij even makkelijk onze belagers liefhebben als onze ouders?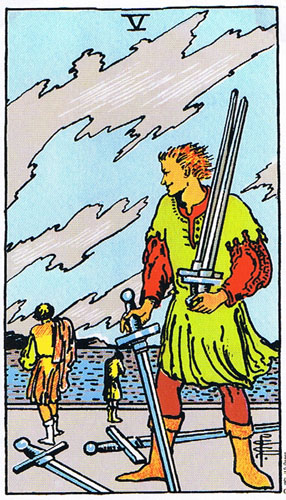 ______ De Kleine Arcana
Er is een duidelijk verschil tussen de Grote Arcana en de Kleine Arcana. Je zou het je kunnen voorstellen als een groot wit papier. Met de Grote Arcana teken je de lijnen; de contouren. Met de Kleine Arcana kan je de tekening inkleuren. Wat is nu precies het verband tussen de tekening en tarotkaarten leggen? Door op een bepaalde manier de kaarten te leggen, kom je zowel troefkaarten, als kaarten uit de Kleine Arcana tegen. De troefkaarten geven dan een globale schets van de situatie of van het probleem. Met behulp van de kaarten uit de Kleine Arcana wordt de schets duidelijker. Kijk maar eens naar het volgende voorbeeld:



De geliefden is een kaart uit de Grote Arcana
Zwaarden V is een kaart uit de Kleine Arcana

De geliefden geeft aan dat het om een relatie en/of vriendschap gaat. De 2e kaart verduidelijkt De Geliefde. Hij vertelt ons dat de strijd voorkomt alsof hij niet te winnen is, maar dat wel degelijk is. Om te winnen moeten we ons verstand gebruiken. De zwaarden staan namelijk voor het element lucht, dat samenhangt met ratio.

De Kleine Arcana kan dus tot in grote details weergeven over wie of wat het gaat tijdens een legging.


______ De Kleine Arcana uitgewerkt
Herhaling van namen zal je in de Grote Arcana niet tegenkomen. De Kleine Arcana daarentegen is onderverdeeld in vier soorten kaarten namelijk staven, kelken, zwaarden en pentakels. Elk soort heeft dezelfde vaste opbouw: De aas, gevolgd door de nummers 2 t/m 10, de schildknaap (page), de ridder, de koningin en de koning. De schildknaap, ridder, de koningin de koning en de aas samen noemen we de hofkaarten. Dit rijtje zie je steeds terugkeren, in staven, kelken, zwaarden en pentakels:


Staven
Kelken
Zwaarden
Pentakels
Staven Aas
Kelken Aas
Zwaarden Aas
Pentakels Aas
Staven Twee
Kelken Twee
Zwaarden Twee
Pentakels Twee
Staven Drie
Kelken Drie
Zwaarden Drie
Pentakels Drie
Staven Vier
Kelken Vier
Zwaarden Vier
Pentakels Vier
Staven Vijf
Kelken Vijf
Zwaarden Vijf
Pentakels Vijf
Staven Zes
Kelken Zes
Zwaarden Zes
Pentakels Zes
Staven Zeven
Kelken Zeven
Zwaarden Zeven
Pentakels Zeven
Staven Acht
Kelken Acht
Zwaarden Acht
Pentakels Acht
Staven Negen
Kelken Negen
Zwaarden Negen
Pentakels Negen
Staven Tien
Kelken Tien
Zwaarden Tien
Pentakels Tien
Staven Page
Kelken Page
Zwaarden Page
Pentakels Page
Staven Ridder
Kelken Ridder
Zwaarden Ridder
Pentakels Ridder
Staven Koningin
Kelken Koningin
Zwaarden Koningin
Pentakels Koningin
Staven Koning
Kelken Koning
Zwaarden Koning
Pentakels Koning

De Grote Arcana duidt hoofdzakelijk archetypen en karaktereigenschappen aan. De Kleine Arcana wordt meer geassocieerd met het leven van alledag. Het verhaalt onze dagelijkse strubbelingen, onze kommer en zorg en omschrijft onze emoties.


______ Het huidige kaartspel
Naar alle waarschijnlijkheid is ons 'normale' kaartspel op deze 56 Kleine Arcana kaarten gebaseerd. In het onderstaande overzicht kan je de overeenkomst tussen tarotkaarten en speelkaarten zien.


Tarot
Speelkaarten
Staven
Klaveren
Zwaarden
Schoppen
Bekers
Harten
Pentakels
Ruiten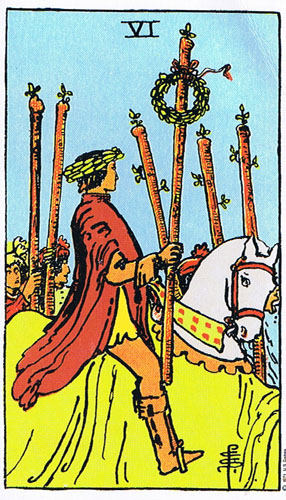 ______ Symbolen
Alle kaarten, troefkaarten, hofkaarten en getallenkaarten hebben een individuele afbeelding. Niet een afbeelding komt twee keer binnen een deck voor. Zo heeft iedere kaart een eigen verhaal en betekenis. De betekenis van de kaart zit vaak verscholen in de afbeelding en de symbolen die er in versleuteld zijn. Toch kunnen we voor de kaartsoorten uit de Kleine Arcana een aantal gemeenschappelijke betekenissen prijsgeven, omdat ze dezelfde symbolen dragen. Zo heeft iedere kaart van het soort staven een of meerdere staven in de kaart verwerkt. Staven zes (VI) zoals hiernaast telt zes staven. De symbolen die corresponderen met een kaartsoort hebben elk een eigen element wat correspondeert met bepaalde eigenschappen:


Soort
Element
Eigenschap
Sterrenbeeld
Staven
Vuur
Energie
Ram, leeuw, boogschutter
Kelken
Water
Emoties
Kreeft, schorpioen, vissen
Zwaarden
Lucht
Denken
Tweelingen, weegschaal, waterman
Pentakels
Aarde
(MateriŰle) zaken
Stier, maagd, steenbok
Alle kaarten van staven hebben in meerdere of mindere mate dus te maken met vuur en energie. Een kaart uit de Grote Arcana als de zon kan een kaart van staven dus versterken. Beter gezegd: een kaart van staven kan De Zon verduidelijken.


______ Staven
Staven, verbonden aan het element vuur, zijn dynamische kaarten. Vuur is altijd in beweging en is onlosmakelijk gekoppeld aan energie. Creativiteit, passie en beweging zijn sleutelwoorden voor het element staven. Ook intuitie en nieuwe ideeen zijn typisch voor staven. Ze kunnen duiden op een creatieve periode in iemands leven. Een spurt van inspiratie die op de zoeker zijn pad komt.
Wanneer er veel kaarten van staven voorkomen in een legging kan dit duiden op een periode waarin veel nieuwe ideeen ontstaan en waar men een start mee zal maken.
Maar ook het tegenovergestelde moet men in de gaten houden; creatieve mensen zijn vaak chaotische mensen. Financieel en zakelijk hebben ze niet altijd alles even netjes op een rijtje. Een kaart van staven kan daarom niet alleen op passie, beweging en creativiteit duiden maar ook op chaos en rommel. Voornamelijk op zakelijk gebied. Want wie kent ze niet; zij die vol ideeŰn en met enthousiasme aan een nieuw project beginnen, maar het vervolgens halverwege laten liggen omdat ze door de bomen het bos niet meer zien.
De staven waarschuwen ons dat wij naar onze eigen intuitie moeten luisteren en ons niet van ons pad moeten laten brengen door anderen. Want dan zullen we zegevieren. Toch is het een pad van hard werken en volharding anders zullen we eenzaam en somber achterblijven.
De kaarten van staven zijn eenvoudige kaarten, die vooral de tarotist zijn intuitie aanspreken.


______ Kelken
De meest serene kaarten van de Kleine Arcana zijn toch wel die van de kelken of bekers. De meesten trots en rustig, de een wat vrolijker dan de ander. Maar is het zo eenvoudig als weergegeven wordt? In veel van de kelken zien we ergens in de kaart rustig water. En bekers zijn zoals we weten bedoeld om vloeistoffen in te bewaren, dan wel uit te drinken. Al dit water staat voor gevoel, empathie en emoties. Zowel positief als negatief. Het rustige water vraagt ons mee te gaan met de stroom. Er tegenin zwemmen is mogelijk, maar wat heeft het voor zin om oud wrok, waar wij vaak zelf niet de schuld van zijn, bij ons te dragen en het naar boven te halen? Ga juist mee met de stroom, vertrouw op je gevoel en luister naar je eigen emoties. Een overdaad aan kelken duidt erop dat wij niet te veel naar ons verstand moeten luisteren maar juist onze gevoelens voorrang moeten bieden.
Ook empathie is verbonden aan kelken. Luister naar een ander en voel een ander aan. Het gaat niet om wat je denkt, maar dat wat je voelt en beleeft.
Water verbindt. Kelken zijn kaarten van verbintenis. Relaties en vriendschappen zijn symboliek van kelken. Maar ook het tegenovergestelde kunnen kelken ons duidelijk proberen te maken; soms voelen we ons alleen, verlaten of buitengesloten. De kelken vragen ons te kijken naar de oorzaak. Is het omdat we alleen willen zijn? Of het ligt het meer aan het feit dat we tegen de stroom in zwemmen, te veel in ons hoofd bezig zijn en te weinig naar ons hart luisteren?
Kelken zijn eigenlijk heel harmonieuze kaarten, die vertrouwen in onszelf, onze familie en onze directe omgeving bieden.


______ Zwaarden
Lucht is het element van de zwaarden en hoort bij het denken en communicatie. De verbeelding van intellect, gedachtes, welspraak en gerechtigdheid. Het is de ratio versus emotie. Wat volgen we? Ons hart, of onze gedachten? Menigeen is wel eens getrotseerd door deze tweestrijd.
Koud en kil doen de kaarten van zwaarden ons aan, doordrenkt van het lucht element. Vol angst en strijd. Toch is een overheersing van zwaarden in een legging een duidelijk teken: volg je ratio om tot een succesvolle overwinning te komen. Vaak duiden zwaarden op serieuze beslissingen en dat we moeten doorpakken in plaats van te volharden in onze passieve houding. Heel letterlijk genomen kunnen we het zwaard gebruiken om knopen door te hakken. Niet voor niets heeft Justitia een zwaard in haar hand.
In de negatieve sfeer kan een zwaardkaart temaken hebben met teleurstelling, belemmering of zelfs verlies.


______ Pentakels
Meer variatie binnen een soort kaarten vindt je bij de pentakels. Pentakels - vijfpuntige sterren op een ronde schijf - kent armoede en rijkdom, harde werkers, kooplieden en aristocratie. Centraal voor pentakels staan materiele en concrete zaken. Niet alleen financien maar alle materiele zaken die wij bezitten worden door pentakels gesymboliseerd: onze huizen, fietsen, autoĺs, ze kunnen zelfs ons nieuwe interieur duiden. Hoge golven, sneeuw en rustig water wisselen elkaar af, wat mede wijst op variatie in onze materiele welvaart.
Pentakels zijn verbonden aan het element aarde, dat onze basis is van ons werk, leven, wonen en inkomen. Voor onze complexe maatschappij moesten wij het voornamelijk hebben van de natuur en het verbouwen van grond.
Ondanks dat pentakels-kaarten de meest gevarieerde in hun soort zijn, zijn ze de meest bevredigende kaarten van de vier soorten in het deck. Behalve hun materialistische duiding zijn ze ook sterk verbonden aan de huishoudelijke sfeer en aan het maken van langetermijnplanning. Een overvloed aan pentakels in een legging zou kunnen wijzen op het maken van gerichte plannen die weliswaar stap voor stap uitgevoerd worden, maar op de lange termijn toch zijn vruchten afwerpen, volharden en stand houden.
De negatieve aspecten van pentakels kunnen duiden verlies en op te veel werken. Zowel binnen als buiten huiselijke kringen te veel hooi op de vork nemen zou een verklaring kunnen zijn voor het voorkomen van veel pentakels in een legging. De oplossing voor dit probleem is wederom het stellen van (concrete) plannen en zo werk uit handen te geven.
Pentakels worden ook wel schijven of munten genoemd en duiden daarmee vanzelfsprekend op de macht en status van individuen. Maar in pentakels vereren en vieren we ook de schoonheid van de natuur en weerspiegelen we onze interactie met flora en fauna.


______ Hofkaarten
Binnen de Kleine Arcana vormen de kaarten page, ridder, koningin en koning een uitzonderlijk kwartet. Zij staan los van de (aas en) getallenkaarten, kunnen ons inzicht verschaffen over aspecten van karakters - zowel de onze als van anderen - en kunnen mensen in onze omgeving beduiden. De hofkaarten zoals we dit kwartet noemen, doen ons denken aan de plaatjeskaarten van gewone speelkaarten. De welbekende "boer" heeft in de tarot echter twee gezichten: dat van page of schildknaap en dat van ridder. De koning en koningin kennen we als de heer en vrouw.
In accumulerende volgorde bezitten schildknaap, ridder, koningin en koning elk een bepaalde hoeveelheid van de desbetreffende soort of element in zich. Dit kunnen we weer reflecteren naar ons eigen karakter of naar anderen in onze omgeving. Zo bevat de schildknaap bijvoorbeeld de ruwe energie en karakter trekken van zijn soort, is de schildknaap in ontwikkeling, draagt de koningin de moederlijke zorg voor het element en is de koning de uiteindelijke beheersing van het element.


Hofkaart
Levensfase
Symbolische waarde
Schildknaap
Kind/tiener
Puur
Ridder
Jong volwassene
Onvolwassen
Koningin
Volwassen
Vrouwelijk
Koning
Volwassen
Mannelijk
Allemaal vertonen we eigenschappen van zowel de schildknaap en ridder in ons. En ongeacht of we zelf man of vrouw zijn dragen we zowel onderdelen van de koning als koningin in ons.
De elementale interpretatie van deze vertegenwoordigers verschild echter van persoon tot persoon en van systeem tot systeem. De een linkt het aan het element waar de vertegenwoordiger toe behoort. Een schildknaap pentakels zou dus het element vuur in zijn pure maar enthousiaste en ongecontroleerde vorm bevatten. Anderen zien alle vier de schildknapen als behorende tot het element aarde.
Belangrijk is om niet te vergeten dat ook de hofkaarten afhankelijk zijn van de kaarten die om hen heen liggen. Een willekeurige schildknaap zou daarom als basis aarde kunnen hebben en beinvloed kunnen worden door het element waar het type schildknaap toe behoort.


______ Schildknaap
Speels als een kind of zoals een zachtaardige tiener bevat de schildknaap het element aarde en daarnaast zijn bijbehorende element vuur, water of lucht in zijn pure vorm. Het is los en spontaan, ongecontroleerd en onbedoeld wild. Onderontwikkeld als je wilt. Dit hoeft echter niet iets negatiefs te betekenen. In tegendeel; het pure element kan ontwikkeld worden en uitbloeien. Deze aspecten dragen we allen over ieder element in ons. Allen hebben we een beetje vuur, lucht, water en aarde in ons.
Als archetype kan de schildknaap verwijzen naar een jong persoon. Dan denken we dus aan een kind of jonge tiener. Maar dit hoeft niet per definitie een jong persoon te zijn. Het kan net zo goed een onder ontwikkelde karaktereigenschap van een hoogbejaarde zijn. Vaak betitelen we dat als "kinderachtig gedrag".
Alle schildknapen in ons Rider Waite deck zijn staande figuren. In de openlucht waar ze zich bevinden kunnen ze alle kanten op. Ze zijn vrij in hun keuze en hun ontwikkeling. Ze hebben een dromerige blik en aanschouwen hun element. Weten ze al wat ze willen? Of zijn ze hier nog totaal niet mee bezig?


______ Ridder
Ridders dragen de aanvankelijke passie en het enthousiasme van een schildknaap, doch meer gecontroleerd en geven het een doel. Ze zijn boodschappers van nieuws met betrekking tot volgende kaarten in lezing. Zo zijn ze verbonden aan lucht, dat alle ridders - ongeacht hun soort - tekent.
Tieners zijn de symboliek van ridders. Onvolwassen, toch geen kind meer. Op weg naar hun volwassen leven maar nog vol enthousiasme en onbezonnenheid. In de negatieve zin kan een ridder duiden op een onrijp persoon (ongeacht zijn leeftijd) die vol overgave zijn doel nastreeft. Al is het, door onwetendheid vaak onbedoeld, ten koste van anderen.
Personen aangeduid met ridders verijzen daarom naar passievolle mensen. Het zijn reizigers en brengers van nieuws. Ze zijn nog ongebonden. Hebben nog geen gesetteld leven en zijn nog geen vaste relatie aangegaan.
De ridders in het Rider Waite deck hebben afzonderlijk een opbouwende fase. Leggen we de ridders van pentakels, kelken, staven en zwaarden in deze volgorde, dan zien we dat elk steeds een snellere pas maakt. Van stilstaand naar stapvoets, draf en uiteindelijk naar galop. Voor hen onder ons die kinderen hebben of wanneer we terugdenken aan onze eigen pubertijd, zal dit ongetwijfeld herkenbaar zijn. Van kind naar tiener gaat redelijk onopgemerkt. Pas wanneer de pubertijd daadwerkelijk begint en we dit merken zijn we bij de tweede ridder aangekomen, die van kelken. Emoties spelen hoog op wanneer tieners beginnen te puberen en kelken (emoties) gaan over in staven (vuur). Tot slot, wanneer pubers uitgroeien tot adolescenten beginnen ze zich te aarden en is de weg naar volwassenheid ontdekt en kan zij bewandeld worden. Zo sluit de ridder van het intellect aan op de ontwikkeling naar de fase van de koningin.


______ Koningin
De moeders van de hofkaarten zijn zij, de koninginnen, die bespiegelend hun troon bezetenen. Zij representeren de vrouwelijke energieen die wij allen in ons dragen, ongeacht of wij zelf man of vrouw zijn. Wanneer wij van adolescent uitgroeien naar volwassene zijn wij beland in de fase van de koningin. Zij die vredig zetelt op haar troon en overzicht heeft over alles, heeft nog niet de staat van perfectie bereikt. Vol wijsheid en vruchtbaarheid is ze gesetteld maar vraagt zich nog steeds af waar haar levenspad toe leidt. Ze reflecteert haar leven en kijkt naar binnen. Ze is zachtaardig en wordt geassocieerd met gevoelens en relaties. Ze omarmt de kaarten van haar soort in plaats van dat ze deze uitdraagt. Het is daarom niet verwonderlijk dat koninginnen innig gelieerd zijn met water.
Refererend naar personen in onze omgeving wijzen deze hofkaarten op autoritaire personen met een zacht karakter.
Het leven van velen draait om de koningin. Zij is het middelpunt van menig gezinsverband. Toch wekt het de vraag: waarom zetelt zij op de troon? Om verder te kunnen met een legging zullen wij deze vraag moeten beantwoorden met een van de volgende twee opties: het is haar vrijwillige keuze ofwel, ze wordt op de troon gehouden.


______ Koning
Het kwartet van de hofkaarten besluiten we met de koningen. Kaarten van beheersing en weelde. Toch hebben koningen een addertje onder het gras. Ze kunnen star zijn, autoritair en dominerend. Zoals de koningin haar element omarmt, draagt de koning het uit. Zonder zijn troon te verlaten staat hij voor zijn element en zal voor niets of niemand wijken. Vuur is het temperamentvolle element der koningen; een typisch mannelijke energie torsen ze mee.
In de positieve zijdes van de koningen zien we prestaties, controle, sterk en assertief. Ze balanceren op het randje van de vriendelijke machthebber met perfecte beheersing over zijn element(en) en de doorgeslagen gezaghebber, begerend naar meer. Zo kan de koning in ons de vertegenwoordiging zijn van ons verlangen naar meer en onze wil om te slagen.


______ Aas
Los van de turbulente hofkaarten en de wat gematigdere getallenkaarten staan de azen. Normaliter worden zij gezien als de grote een, de kaart van het begin. Maar ze kunnen niet alleen als het begin der telling van de kaarten gezien worden, ze vervolmaken en completeren het deck en creeren zo de vicieuze cirkel des levens. De koningen overstijgend zijn de azen pure perfectie van hun soort. Noch mannelijk, noch vrouwelijk, of juist beide ineen. Ongebonden en geen groei behoevend.
Ze kondigen hun soort aan en staan steeds voor een positieve waarde.
Het is niet verwonderlijk dat deze kaarten staan voor een nieuw begin. Azen vertellen ons dat het oke is om een nieuwe start te maken. Zeker na heftige gebeurtenissen.
Azen kondigen ook grote onvoorziene veranderingen aan. Wanneer zij omringd wordt door meerdere negatieve kaarten kan het zijn dat wij onze focus hebben verplaatst en deze veranderingen niet willen zien of ze blokkeren. Toch zijn wendingen van azen immers positief.
Hofkaarten die een aas omgeven kunnen ons wijzen op nieuwe of hernieuwde contacten. Al met al wijst de aas ons erop dat verder mogen, opnieuw mogen beginnen, onze blokkades moeten opheffen en vooral door moeten gaan.


______ Getallenkaarten
Na alle informatie over troefkaarten, hofkaarten en azen, lijken de getallenkaarten een ondergeschoven kindje te worden. Zonder deze kaarten zou een goede legging nochtans niet mogelijk zijn. Het zijn namelijk de getallenkaarten die het geheel verduidelijken. Ze bieden ons extra informatie wanneer we een troefkaart niet kunnen plaatsen in het geheel. Getallenkaarten zijn vaak overheersend en kleuren onze schetsen van troef- en hofkaarten in.
Wanneer er meerdere getallenkaarten van een soort zijn binnen een legging, spreken we van een overheersend element. Zo vertellen zij bijvoorbeeld dat een situatie draait om een financiele kwestie waarin het merendeel van de kaarten bestaat uit pentakels.


Copyright © 2001 - 2023 Book of Shadows - Alle rechten voorbehouden