Book of Shadows
[ Tuesday 27 October 2020 - bijna volle maan - Log in/registreer - Zoeken ]
Home
Nieuws
Gezondheid
Bewustwording
Voeding
Beweging
Pilates
Tai Chi
Yoga
Introductie
Geschiedenis
Stromingen
Yoga van Pranayama
Yoga van Asana
Yoga van Dhyana
Literatuur
Spiritualiteit
Alternatief
Engelen
Introductie
Functies
Literatuur
Gidsen
Introductie
Contact
Oefeningen
Literatuur
Intuitie
Introductie
Helderweten
Helderzien
Helderhoren
Heldervoelen
Helderproeven
Helderruiken
Oefeningen
Literatuur
Kleuren
Re´ncarnatie
Wierook
Introductie
Soorten
Houders
Literatuur
Divinatie
Astrologie
Introductie
Geschiedenis
De Dierenriem
De Drie Pilaren
Literatuur
Numerologie
Pendelen
Introductie
Waarmee
Oefeningen
Literatuur
Runen
Introductie
Runentekens
Literatuur
Tarot
Introductie
Functie
Geschiedenis
Kaarten
Legpatronen
Decks
Oefeningen
Literatuur
Healing
Aura
Introductie
Lagen
Oefeningen
Literatuur
Chakra
Introductie
Kleuren
Oefeningen
Literatuur
Edelstenen
Energie
Reiki
Introductie
Geschiedenis
Grandmasters
Stromingen
Inwijdingen
Graden
Behandeling
Literatuur
Paganisme
Dru´den
Hekserij
Magie
Paganisme
Wicca
Paranormaal
Entiteiten
Ouijabord
Introductie
Borden
Glaasje draaien
Literatuur
Telekinese
Telepathie
Introductie
Documentatie
Oefeningen
Literatuur
Praktijk
Achtergrond
Dienstenaanbod
Tarieven
Reserveren
Contact
Community
Agenda
Columns
Chat
Polls
Forum
Online divinatie
Tarot
Webshop
Contact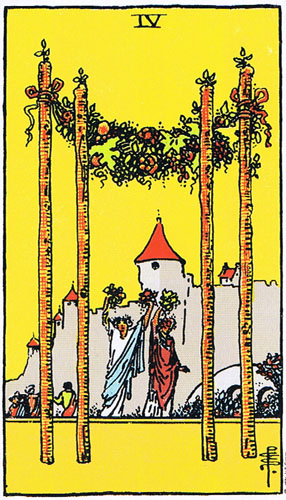 Staven Vier
Numerologische waarde
4


Element
Vuur


Positieve sleutelwoorden
Vrijheid, blijheid, opwinding, viering


Negatieve sleutelwoorden
Vraagtekens hebben bij je eigen geluk


Verhaal 1
Op de voorgrond: vier palen met daaraan een slinger van vruchten, bloemen en planten. Op de achtergrond zien we een paar, man en vrouw, vrolijk zwaaien met bloemen. Verder op de achtergrond zien we nog drie figuren, maar hun verhouding tot elkaar en de verhandelingen die ze uitvoeren zijn niet duidelijk. Wat op de achtergrond ligt zou een tuin kunnen zijn, aangrenzend aan een burcht, kasteel, of dorp op een heuvel.


Betekenis
Deze vreugdevolle kaart weerspiegelt ons gevoel van vrijheid, blijheid en opwinding. Het laat zien dat we ons los maken van grenzen die we onszelf gesteld hebben. We gaan buiten onze comfortzone leven en werken en ontdekken dat we daar ook zeer gelukkig kunnen zijn.
Staven vier is een kaart van extreem geluk, zoals een feest, viering of trouwerij. Als we deze kaart tegen komen weten we dat ons iets positiefs te wachten staat of dat we ons afvragen of gelukkig zijn binnen onze huidige grenzen.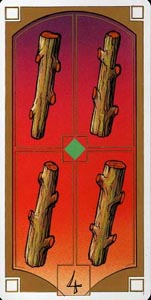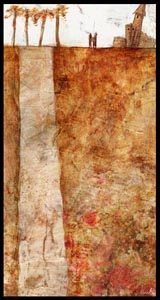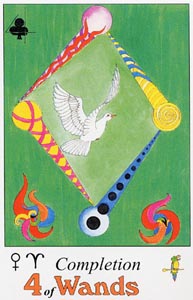 Copyright © 2001 - 2020 Book of Shadows - Alle rechten voorbehouden