Book of Shadows
[ Friday 8 December 2023 - verdwijnende maan - Log in/registreer - Zoeken ]
Home
Nieuws
Gezondheid
Bewustwording
Voeding
Beweging
Pilates
Tai Chi
Yoga
Introductie
Geschiedenis
Stromingen
Yoga van Pranayama
Yoga van Asana
Yoga van Dhyana
Literatuur
Spiritualiteit
Alternatief
Engelen
Introductie
Functies
Literatuur
Gidsen
Introductie
Contact
Oefeningen
Literatuur
Intuitie
Introductie
Helderweten
Helderzien
Helderhoren
Heldervoelen
Helderproeven
Helderruiken
Oefeningen
Literatuur
Kleuren
Re´ncarnatie
Wierook
Introductie
Soorten
Houders
Literatuur
Divinatie
Astrologie
Introductie
Geschiedenis
De Dierenriem
De Drie Pilaren
Literatuur
Numerologie
Pendelen
Introductie
Waarmee
Oefeningen
Literatuur
Runen
Introductie
Runentekens
Literatuur
Tarot
Introductie
Functie
Geschiedenis
Kaarten
Legpatronen
Decks
Oefeningen
Literatuur
Healing
Aura
Introductie
Lagen
Oefeningen
Literatuur
Chakra
Introductie
Kleuren
Oefeningen
Literatuur
Edelstenen
Energie
Reiki
Introductie
Geschiedenis
Grandmasters
Stromingen
Inwijdingen
Graden
Behandeling
Literatuur
Paganisme
Dru´den
Hekserij
Magie
Paganisme
Wicca
Paranormaal
Entiteiten
Ouijabord
Introductie
Borden
Glaasje draaien
Literatuur
Telekinese
Telepathie
Introductie
Documentatie
Oefeningen
Literatuur
Praktijk
Achtergrond
Dienstenaanbod
Tarieven
Reserveren
Contact
Community
Agenda
Columns
Chat
Polls
Forum
Online divinatie
Tarot
Webshop
Contact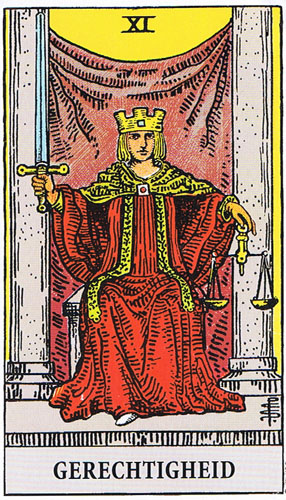 Gerechtigdheid
Numerologische waarde
11


Element
Lucht


Positieve sleutelwoorden
Keuze, vereffening, onpartijdig zijn


Verhaal 1
Gerechtigdheid, afgebeeld met wel bekend zwaard en de weegschaal is op deze kaart gezeten op een troon. Of het een mannelijk of vrouwelijk figuur is, is onduidelijk en is eigenlijk om het even. Een duidelijk verschil met vrouwe Justitia is dat de persoon van deze kaart niet geblinddoekt is en dus niet volledig onpartijdig is. Toch is de rest van de kaart afgeschermd met een roodbruin doek.


Verhaal 2
De kaart Gerechtigheid, ook wel Rechtvaardigheid genoemd, is kaart nummer 8. Toch zijn er verschillende (soorten) decks, die op plaats nummer 8 de kaart van de Kracht hebben staan. Dit verschil heeft Rider Waite in de wereld geholpen. Hij baseerde dit op het achtste dierenriem teken, dat een leeuw is. Op de kaart van de Kracht staat ook een leeuw afgebeeld, vandaar dat hij deze kaarten van plaats verwisselde. Traditioneel is kaart nummer 8 dus de Gerechtigheid.


Betekenis
De kroon geeft aan dat de persoon op de kaart een leidinggevend, autoritair of aristocratisch persoon is. Deze is daarom in staat om weloverwogen beslissingen te nemen. Het vertelt ons dat we zowel rationeel als emotioneel rust moeten vinden alvorens een conclusie te trekken en een beslissing te nemen.
Het zwaard is tweesnijdend: het staat voor heldere gedachten en heldere en rechtvaardige acties. Het zwaard is een symbool voor het element lucht, dat verbonden is aan ons denken. Het zwaard snijdt een directe weg naar de kern. Zo worden alle overbodige zaken ôweggesnedenö en komen zo los van de kern. Alles wat irrelevant is wordt dus opzij gezet zodat men goed over de kwestie kan nadenken.
Gerechtigheid is een kaart van geweten, vereffening en het vinden van een balans. Let wel, het gaat hier om het vinden van balans, deze is dus nog niet bereikt. De kaart is een verder ontwikkelde versie van de Geliefden; het is niet meer snel een keus maken, maar eerst alles tegen elkaar afwegen. Het is een kaart die onpartijdige beslissingen voor moet stellen. Vrouwe Justitia was echter geblinddoekt, waardoor zij volledig onpartijdig kon zijn. De kaart van de Gerechtigheid mist deze blinddoek en waarschuwt ons: wees onpartijdig!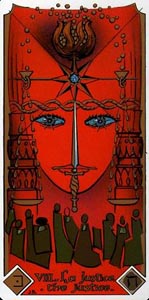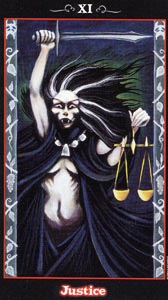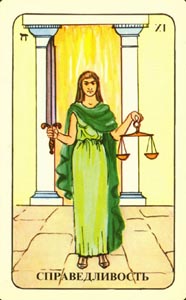 Copyright © 2001 - 2023 Book of Shadows - Alle rechten voorbehouden