Book of Shadows
[ Tuesday 27 October 2020 - bijna volle maan - Log in/registreer - Zoeken ]
Home
Nieuws
Gezondheid
Bewustwording
Voeding
Beweging
Pilates
Tai Chi
Yoga
Introductie
Geschiedenis
Stromingen
Yoga van Pranayama
Yoga van Asana
Yoga van Dhyana
Literatuur
Spiritualiteit
Alternatief
Engelen
Introductie
Functies
Literatuur
Gidsen
Introductie
Contact
Oefeningen
Literatuur
Intuitie
Introductie
Helderweten
Helderzien
Helderhoren
Heldervoelen
Helderproeven
Helderruiken
Oefeningen
Literatuur
Kleuren
Re´ncarnatie
Wierook
Introductie
Soorten
Houders
Literatuur
Divinatie
Astrologie
Introductie
Geschiedenis
De Dierenriem
De Drie Pilaren
Literatuur
Numerologie
Pendelen
Introductie
Waarmee
Oefeningen
Literatuur
Runen
Introductie
Runentekens
Literatuur
Tarot
Introductie
Functie
Geschiedenis
Kaarten
Legpatronen
Decks
Oefeningen
Literatuur
Healing
Aura
Introductie
Lagen
Oefeningen
Literatuur
Chakra
Introductie
Kleuren
Oefeningen
Literatuur
Edelstenen
Energie
Reiki
Introductie
Geschiedenis
Grandmasters
Stromingen
Inwijdingen
Graden
Behandeling
Literatuur
Paganisme
Dru´den
Hekserij
Magie
Paganisme
Wicca
Paranormaal
Entiteiten
Ouijabord
Introductie
Borden
Glaasje draaien
Literatuur
Telekinese
Telepathie
Introductie
Documentatie
Oefeningen
Literatuur
Praktijk
Achtergrond
Dienstenaanbod
Tarieven
Reserveren
Contact
Community
Agenda
Columns
Chat
Polls
Forum
Online divinatie
Tarot
Webshop
Contact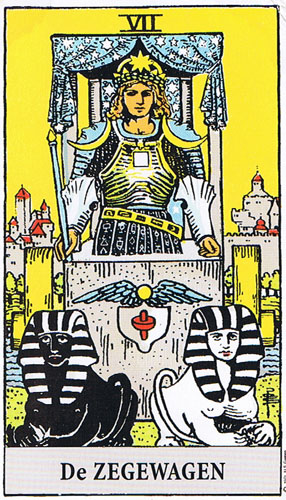 De Zegewagen
Numerologische waarde
7


Sterrenbeeld
Kreeft


Positieve sleutelwoorden
Overwinning, ontwikkeling


Negatieve sleutelwoorden
Conflicten, emoties


Verhaal 1
Deze imposante figuur doet ons denken aan de magier. Deze figuur heeft echter een grote staf en houdt hem bij zich. Hij zit in een rijkelijk versierde zegewagen, die wordt getrokken door twee sfinxen. Wederom zien we een tegengesteld beeld.
De figuur in de zegewagen is goed bedeeld, als we kijken naar zijn extravagante kleding. Hij draagt vele symbolen op zijn riem en zijn gewaad. Hij heeft grote witte mouwen en draagt op zijn schouders twee manen. Zijn harnas wat onder zijn gewaad zit, is ook deels zichtbaar. Opvallend is dat bij zijn schouders, achter de manen twee gezichtjes zichtbaar zijn.
Ook deze figuur draagt een kroon (met ster) en een krans van olijftakken.
Het land waar de zegewagen zich bevindt is aan de overkant van een rivier. Aan de andere kant van de rivier bevindt zich een stad. Of er verbinding is tussen de twee landdelen is niet zichtbaar.


Betekenis
Deze kaart duidt, zoals de naam al zegt, op het behalen van een zege; een overwinning. Deze zege is in het algemeen de spirituele groei die wij doormaken. Het is onze weg naar wijsheid, die niet altijd even soepel zal verlopen. De twee sfinxen, verschillend van kleur, allebei andere kanten uitkijkend, duiden op een conflict. Een conflict naar aanleiding van onze ontwikkeling, of een conflict dat we zojuist overwonnen hebben. In het laatste geval is het echter iets wat ons bezig blijft houden. Dat vertelt namelijk het blauw op de kaart. Blauw staat voor emotie, intuitie en (behoefte aan) rust. Een duiding voor de komende periode dus.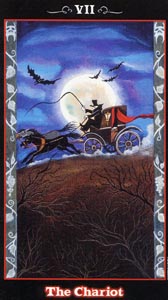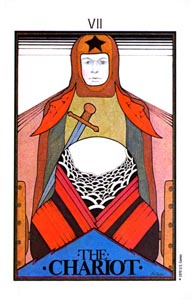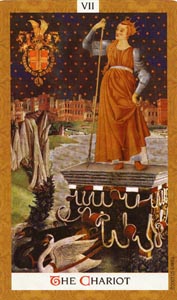 Copyright © 2001 - 2020 Book of Shadows - Alle rechten voorbehouden