Book of Shadows
[ Friday 8 December 2023 - verdwijnende maan - Log in/registreer - Zoeken ]
Home
Nieuws
Gezondheid
Bewustwording
Voeding
Beweging
Pilates
Tai Chi
Yoga
Introductie
Geschiedenis
Stromingen
Yoga van Pranayama
Yoga van Asana
Yoga van Dhyana
Literatuur
Spiritualiteit
Alternatief
Engelen
Introductie
Functies
Literatuur
Gidsen
Introductie
Contact
Oefeningen
Literatuur
Intuitie
Introductie
Helderweten
Helderzien
Helderhoren
Heldervoelen
Helderproeven
Helderruiken
Oefeningen
Literatuur
Kleuren
Re´ncarnatie
Wierook
Introductie
Soorten
Houders
Literatuur
Divinatie
Astrologie
Introductie
Geschiedenis
De Dierenriem
De Drie Pilaren
Literatuur
Numerologie
Pendelen
Introductie
Waarmee
Oefeningen
Literatuur
Runen
Introductie
Runentekens
Literatuur
Tarot
Introductie
Functie
Geschiedenis
Kaarten
Legpatronen
Decks
Oefeningen
Literatuur
Healing
Aura
Introductie
Lagen
Oefeningen
Literatuur
Chakra
Introductie
Kleuren
Oefeningen
Literatuur
Edelstenen
Energie
Reiki
Introductie
Geschiedenis
Grandmasters
Stromingen
Inwijdingen
Graden
Behandeling
Literatuur
Paganisme
Dru´den
Hekserij
Magie
Paganisme
Wicca
Paranormaal
Entiteiten
Ouijabord
Introductie
Borden
Glaasje draaien
Literatuur
Telekinese
Telepathie
Introductie
Documentatie
Oefeningen
Literatuur
Praktijk
Achtergrond
Dienstenaanbod
Tarieven
Reserveren
Contact
Community
Agenda
Columns
Chat
Polls
Forum
Online divinatie
Tarot
Webshop
Contact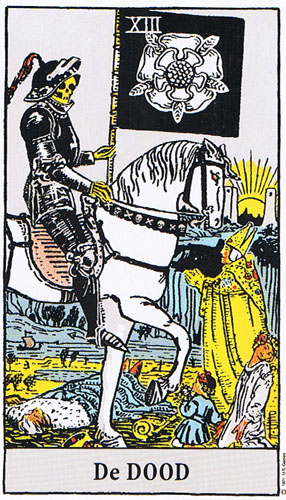 De Dood
Numerologische waarde
4


Element
Vuur


Sterrenbeeld
Schorpioen


Positieve sleutelwoorden
Het leven, het einde van iets, positieve energie


Negatieve sleutelwoorden
Beeindiging


Verhaal 1
Achter in de verte schijnt de zon. Glorieus komt ze op om de mensen te groeten en het leven te eren.
Stapvoets rijdt het witte paard, dat een skelet draagt met een harnas. Alleen het gezicht en de handen van het skelet zijn niet bedekt. Hij maakt zichzelf kenbaar.
In zijn linker hand draagt hij een vaandel, toch waait het niet als we kijken naar de veren aan zijn helm.
Het paard lijkt halt te houden. Vlak voor twee kinderen, die geknield op de grond zitten. Het kleine kindje met het blauwe gewaad kijkt verschrikt. Het wat oudere kind wendt de blik af.
Bij de kinderen zien we ook een paus of heilige staan. Of deze voor of voorbij het paard staat is niet geheel duidelijk. Hij lijkt te bidden.
Op de grond zien we een man, een kroon en een staf.


Verhaal 2
Van de zon kunnen we niet zeggen of hij op komt of onder gaat. En zeker kunnen we ook niet zijn of het paard wel stopt. Maar als het door loopt, loopt het dan over of misschien simpelweg langs de kinderen?


Betekenis
De Dood is toch wel de meest gevreesde kaart in de tarot. Zodra deze kaart op tafel gelegd wordt, beginnen mensen (zenuwachtig) te lachen en roepen ze "dat heb ik weer!". Eigenlijk is de Dood een heel normaal onderdeel van ieders leven. De Dood duidt simpelweg op het einde van een bepaald hoofdstuk, in de meeste gevallen dus niet op de dood zelf. Of dit einde een positief of negatief aspect is, verschilt per persoon, per hoofdstuk. Als je jaren lang in een relatie hebt gezeten die niet goed voelde en hij komt tot een eind, dan zal dit natuurlijk als een bevrijding en daarom als positief ervaren worden. Wordt je relatie echter beeindigd omdat je partner, van wie je zielsveel houdt, vreemd is gegaan, dan zal het natuurlijk wat zwaarder vallen. Maar kijk nog eens goed naar de kaart. Je ziet dan dat in de verte de zon weer opkomt. Het leven staat niet stil, het paard loopt door, en positieve dingen zullen ons leven weer opfleuren.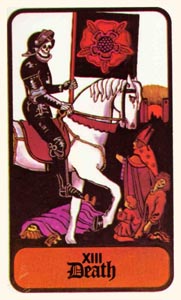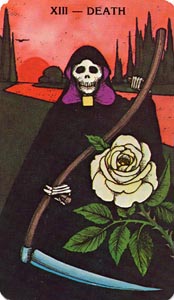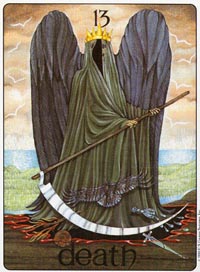 Copyright © 2001 - 2023 Book of Shadows - Alle rechten voorbehouden