Book of Shadows
[ Friday 8 December 2023 - verdwijnende maan - Log in/registreer - Zoeken ]
Home
Nieuws
Gezondheid
Bewustwording
Voeding
Beweging
Pilates
Tai Chi
Yoga
Introductie
Geschiedenis
Stromingen
Yoga van Pranayama
Yoga van Asana
Yoga van Dhyana
Literatuur
Spiritualiteit
Alternatief
Engelen
Introductie
Functies
Literatuur
Gidsen
Introductie
Contact
Oefeningen
Literatuur
Intuitie
Introductie
Helderweten
Helderzien
Helderhoren
Heldervoelen
Helderproeven
Helderruiken
Oefeningen
Literatuur
Kleuren
Re´ncarnatie
Wierook
Introductie
Soorten
Houders
Literatuur
Divinatie
Astrologie
Introductie
Geschiedenis
De Dierenriem
De Drie Pilaren
Literatuur
Numerologie
Pendelen
Introductie
Waarmee
Oefeningen
Literatuur
Runen
Introductie
Runentekens
Literatuur
Tarot
Introductie
Functie
Geschiedenis
Kaarten
Legpatronen
Decks
Oefeningen
Literatuur
Healing
Aura
Introductie
Lagen
Oefeningen
Literatuur
Chakra
Introductie
Kleuren
Oefeningen
Literatuur
Edelstenen
Energie
Reiki
Introductie
Geschiedenis
Grandmasters
Stromingen
Inwijdingen
Graden
Behandeling
Literatuur
Paganisme
Dru´den
Hekserij
Magie
Paganisme
Wicca
Paranormaal
Entiteiten
Ouijabord
Introductie
Borden
Glaasje draaien
Literatuur
Telekinese
Telepathie
Introductie
Documentatie
Oefeningen
Literatuur
Praktijk
Achtergrond
Dienstenaanbod
Tarieven
Reserveren
Contact
Community
Agenda
Columns
Chat
Polls
Forum
Online divinatie
Tarot
Webshop
Contact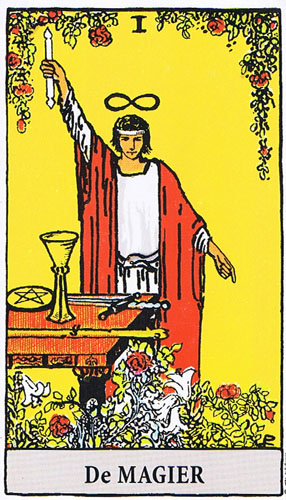 De Magier
Numerologische waarde
1


Element
Alle


Positieve sleutelwoorden
Balans, intuitie, wijsheid en (creerende) energie


Verhaal 1
Tussen rode rozen en witte lelies staat de jonge magier achter een tafel. Gehuld in een wit gewaad met rode omslag heft hij met zijn rechterhand zijn witte staf naar de hemel en met zijn linker wijsvinger wijst hij naar de aarde. Op zijn tafel heeft hij alle vier de elementen van de tarot uitgestald: beker, pentakel, zwaard en staaf. Om zijn middel en boven hem twee tekens van oneindigheid: de slang die zichzelf in de staart bijt en het lemniscaat.


Betekenis
De Magier is een kaart van groot balans en vermogen. Op een tafel (een stevige basis) rusten symbolen van de vier elementen. Alle vier zijn ze vertegenwoordigd, van ieder element is er een aanwezig: de pentakel, de kelk, het zwaard en de staf. Niet alleen de aanwezigheid van deze elementen is een belangrijk gegeven. Ook de beheersing ervan; de magier heeft controle over alle vier belangrijke elementen van de tarot en van het leven. Dat maakt hem niet alleen wijs en een gebalanceerd persoon maar het geeft ook aan dat hij zelfverzekerd is. Wanneer deze kaart verschijnt, weet je dat je vertrouwen mag hebben in dat wat je doet, goed is. Want je kunt het, je beheerst het. Nu is het moment van handelen. Van creeeren en transformeren, om de solide basis van het leven te vormen of te verstevigen.
De Magier is een wijs man en wijst ons op een oud gezegde, namelijk "zo boven, zo onder". Hiermee probeert hij te zeggen dat alles in het leven even belangrijk is. Het een kan niet zonder het ander en een goede balans vindt men in een evenwichtig leven. De Magier zelf is in evenwicht met het aardse en het spirituele, een bron van wijsheid, intuitie en krachtige energie. Door zijn wijsheid en intuitie, is de Magier een scheppend man. Zijn kaart duidt op creerende energie en creativiteit die ontstaat uit een diep verlangen of de wil iets te bereiken. Vanuit het niets kan de magier iets prachtigs maken en dat is wat hij ons wil meegeven. Creeren en transformeren kan iedereen, als de wil en de intentie er maar voor zijn.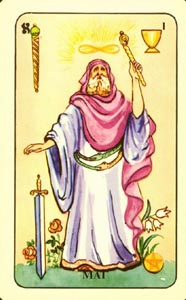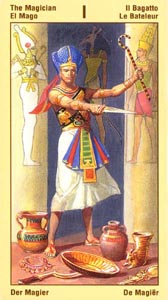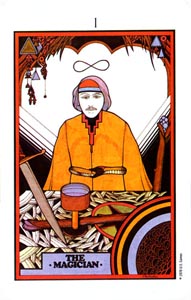 Copyright © 2001 - 2023 Book of Shadows - Alle rechten voorbehouden