Book of Shadows
[ Monday 25 January 2021 - bijna volle maan - Log in/registreer - Zoeken ]
Home
Nieuws
Gezondheid
Bewustwording
Voeding
Beweging
Pilates
Tai Chi
Yoga
Introductie
Geschiedenis
Stromingen
Yoga van Pranayama
Yoga van Asana
Yoga van Dhyana
Literatuur
Spiritualiteit
Alternatief
Engelen
Introductie
Functies
Literatuur
Gidsen
Introductie
Contact
Oefeningen
Literatuur
Intuitie
Introductie
Helderweten
Helderzien
Helderhoren
Heldervoelen
Helderproeven
Helderruiken
Oefeningen
Literatuur
Kleuren
Re´ncarnatie
Wierook
Introductie
Soorten
Houders
Literatuur
Divinatie
Astrologie
Introductie
Geschiedenis
De Dierenriem
De Drie Pilaren
Literatuur
Numerologie
Pendelen
Introductie
Waarmee
Oefeningen
Literatuur
Runen
Introductie
Runentekens
Literatuur
Tarot
Introductie
Functie
Geschiedenis
Kaarten
Legpatronen
Decks
Oefeningen
Literatuur
Healing
Aura
Introductie
Lagen
Oefeningen
Literatuur
Chakra
Introductie
Kleuren
Oefeningen
Literatuur
Edelstenen
Energie
Reiki
Introductie
Geschiedenis
Grandmasters
Stromingen
Inwijdingen
Graden
Behandeling
Literatuur
Paganisme
Dru´den
Hekserij
Magie
Paganisme
Wicca
Paranormaal
Entiteiten
Ouijabord
Introductie
Borden
Glaasje draaien
Literatuur
Telekinese
Telepathie
Introductie
Documentatie
Oefeningen
Literatuur
Praktijk
Achtergrond
Dienstenaanbod
Tarieven
Reserveren
Contact
Community
Agenda
Columns
Chat
Polls
Forum
Online divinatie
Tarot
Webshop
Contact
De Zot
Element
Lucht


Positieve sleutelwoorden
Advies, onschuld, nieuw begin, intuitie


Negatieve sleutelwoorden
Risico, waarschuwing


Verhaal 1
Afgebeeld onder de stralende witte zon aan de rand van een klif staat de Zot met in zijn linkerhand een witte bloem (roos) en in zijn rechter zijn bescheiden knapsak. De Zot, vaak ook de Dwaas genoemd, is niet alleen. Samen met een witte hond kijkt hij omhoog. Genietend? Of misschien verlangend naar wat hoger is. In zijn haar draagt hij een band van olijftakken met een veer. Vrijheid symboliserend, zijn armen wijd niet bang om te vallen. Zijn puur witte shirt wordt gemaskeerd door zijn flamboyante, jurkachtig gewaad.


Verhaal 2
Waarschuwend, op zijn achterpoten blaffend probeert hij te voorkomen dat de Dwaas valt. De hond, puur wit, onschuldig, probeert te helpen. Wordt hij gehoord? Loopt de Dwaas verder? De afgrond in? Of geniet hij enkel van het uitzicht, de zon, de lucht.


Betekenis
De Dwaas, afgebeeld op de top van een berg. Hij riskeert van de berg af te vallen, tenzij hij naar adviezen en/of waarschuwingen luistert van de hond, een symbool voor een trouwe metgezel of vriend. Maar is het zinnig om te luisteren? De Dwaas is een kaart van grote symboliek maar staat bovenal voor intuitie. Iedereen draag de Dwaas in zich. Eenieder zou vaker moeten luisteren naar zijn eigen intuitie want hoe vaak hebben we spijt van het volgen van andermans advies terwijl we zelf heel goed wisten wat we wilden?
Indien men gewaarschuwd wordt door een goede vriend (de hond) luister dan naar de adviezen die je krijgt. Leg het niet naast je neer, maar denk er over na. Vergeet echter niet dat je eigen keuze de beste is. Deze hoort bij je.
Valt men dan toch naar beneden, doet men een stap achterwaarts, wees dan niet bang om opnieuw te beginnen. En als je een fout maakt, probeer dan in te zien wat die fout was en probeer er zo van te leren. Stop niet want een weg terug is er niet. Ga door en blijf bij je keuze, blijf bij je eigen intuitie.
Jung zou de Dwaas omschreven hebben als het innerlijk kind. Het spreekt de waarheid, net als Schakespeares dwaas uit King Lear, ook al zou hij er onder kunnen lijden.
Genietend van het leven zoals het komt en gaat, toch kan het geen kwaad om af en toe even goed op te letten. Want op de loer ligt het kwaad dat ons naar de donkere kant probeert te trekken. Of het wel bekende ritme van meer, groter, beter. Dat is niet altijd vooruitgang. Soms moet je juist stil staan bij wat je hebt. Aanschouw het, accepteer het en geniet er van. Want wie zegt de Zot de afgrond in loopt? Er staat een duidelijke wind. Wie weet is hij niet zo zot en dwaas als wij denken, maar staat hij juist stil bij het feit dat hij het goed heeft. Op de toppen van zijn kunnen, met zijn beperkte ballast geniet hij van alles wat hij ziet en ruikt. Gehuld in wit, de kleur van onschuld en spirituele volmaaktheid is hij op weg naar verlichting (de witte zon). Het kan een nieuw begin zijn (van iets ouds) maar het kan ook heel goed het juiste pad zijn dat men bewandelt. Het levenspad waar`men op de top rust, sereniteit en vrede vindt.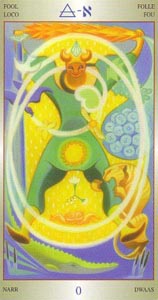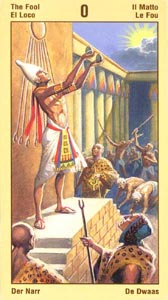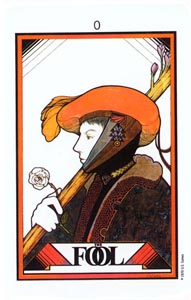 Copyright © 2001 - 2021 Book of Shadows - Alle rechten voorbehouden