Book of Shadows
[ Friday 8 December 2023 - verdwijnende maan - Log in/registreer - Zoeken ]
Home
Nieuws
Gezondheid
Bewustwording
Voeding
Beweging
Pilates
Tai Chi
Yoga
Introductie
Geschiedenis
Stromingen
Yoga van Pranayama
Yoga van Asana
Yoga van Dhyana
Literatuur
Spiritualiteit
Alternatief
Engelen
Introductie
Functies
Literatuur
Gidsen
Introductie
Contact
Oefeningen
Literatuur
Intuitie
Introductie
Helderweten
Helderzien
Helderhoren
Heldervoelen
Helderproeven
Helderruiken
Oefeningen
Literatuur
Kleuren
Re´ncarnatie
Wierook
Introductie
Soorten
Houders
Literatuur
Divinatie
Astrologie
Introductie
Geschiedenis
De Dierenriem
De Drie Pilaren
Literatuur
Numerologie
Pendelen
Introductie
Waarmee
Oefeningen
Literatuur
Runen
Introductie
Runentekens
Literatuur
Tarot
Introductie
Functie
Geschiedenis
Kaarten
Legpatronen
Decks
Oefeningen
Literatuur
Healing
Aura
Introductie
Lagen
Oefeningen
Literatuur
Chakra
Introductie
Kleuren
Oefeningen
Literatuur
Edelstenen
Energie
Reiki
Introductie
Geschiedenis
Grandmasters
Stromingen
Inwijdingen
Graden
Behandeling
Literatuur
Paganisme
Dru´den
Hekserij
Magie
Paganisme
Wicca
Paranormaal
Entiteiten
Ouijabord
Introductie
Borden
Glaasje draaien
Literatuur
Telekinese
Telepathie
Introductie
Documentatie
Oefeningen
Literatuur
Praktijk
Achtergrond
Dienstenaanbod
Tarieven
Reserveren
Contact
Community
Agenda
Columns
Chat
Polls
Forum
Online divinatie
Tarot
Webshop
Contact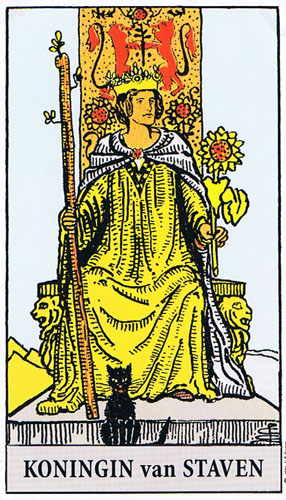 Koningin van Staven
Element
Vuur


Positieve sleutelwoorden
Planning, organisatie, leiding, leven


Negatieve sleutelwoorden
Chaos, drukte, disbalans


Verhaal 1
De verschillende leeuwen op de troon, de zonnebloem in haar linkerhand, de staf in haar rechterhand. Fier en vurig kijkt de koningin van staven. Voor haar zit haar zwarte kat. Alert en rechtop.


Betekenis
In een lezing vraagt de koning je te verplaatsen in haar manier van denken. Vraag jezelf eens:
Ben ik mooi?
Ben ik sterk?
Ben ik evenwichtig?
Ben ik oprecht? Deze eigenschappen bezit te de koningin. Probeer je in eens in haar positie te visualiseren, gezeten op haar troon en voel je als een koningin. Niet protserig, niet egoistisch, maar rechtvaardig en gebalanceerd. Ze is wijs en autoritair (dat duidt haar kroon), zonder negatief of betweterig over te komen. Ze heeft een sterke intuitie en is een inspiratiebron voor anderen. Door haar positie is ze in staat om verschillende groepen, mensen en meningen samen te brengen en een te laat worden. Dit vereist creatief denken, iets dat de koning goed beheerst. De leeuw en de zonnebloem refereren aan haar creatieve kanten en haar element, vuur.

Verbonden aan dit element is het gebruik van magie. Ook magie vereist bovenstaande eigenschappen wil het juist en doeltreffend uitgevoerd kunnen worden. De zwarte kat staat voor deze magie. De kaart komt naar voren in een lezing wanneer er mensen om je heen, of misschien jij zelf druk bezig bent of bezig gaat met het plannen en organiseren van zaken die jou en je directe omgeving aan gaan. Laat je geinspireerd raken door de koningin en leef net als zij.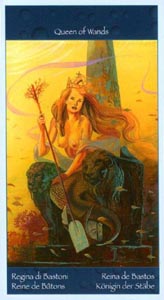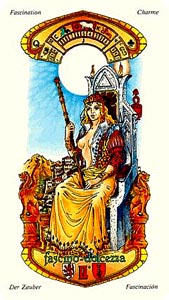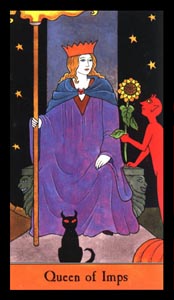 Copyright © 2001 - 2023 Book of Shadows - Alle rechten voorbehouden