Book of Shadows
[ Wednesday 3 June 2020 - bijna volle maan - Log in/registreer - Zoeken ]
Home
Nieuws
Gezondheid
Bewustwording
Voeding
Beweging
Pilates
Tai Chi
Yoga
Introductie
Geschiedenis
Stromingen
Yoga van Pranayama
Yoga van Asana
Yoga van Dhyana
Literatuur
Spiritualiteit
Alternatief
Engelen
Introductie
Functies
Literatuur
Gidsen
Introductie
Contact
Oefeningen
Literatuur
Intuitie
Introductie
Helderweten
Helderzien
Helderhoren
Heldervoelen
Helderproeven
Helderruiken
Oefeningen
Literatuur
Kleuren
Re´ncarnatie
Wierook
Introductie
Soorten
Houders
Literatuur
Divinatie
Astrologie
Introductie
Geschiedenis
De Dierenriem
De Drie Pilaren
Literatuur
Numerologie
Pendelen
Introductie
Waarmee
Oefeningen
Literatuur
Runen
Introductie
Runentekens
Literatuur
Tarot
Introductie
Functie
Geschiedenis
Kaarten
Legpatronen
Decks
Oefeningen
Literatuur
Healing
Aura
Introductie
Lagen
Oefeningen
Literatuur
Chakra
Introductie
Kleuren
Oefeningen
Literatuur
Edelstenen
Energie
Reiki
Introductie
Geschiedenis
Grandmasters
Stromingen
Inwijdingen
Graden
Behandeling
Literatuur
Paganisme
Dru´den
Hekserij
Magie
Paganisme
Wicca
Paranormaal
Entiteiten
Ouijabord
Introductie
Borden
Glaasje draaien
Literatuur
Telekinese
Telepathie
Introductie
Documentatie
Oefeningen
Literatuur
Praktijk
Achtergrond
Dienstenaanbod
Tarieven
Reserveren
Contact
Community
Agenda
Columns
Chat
Polls
Forum
Online divinatie
Tarot
Webshop
Contact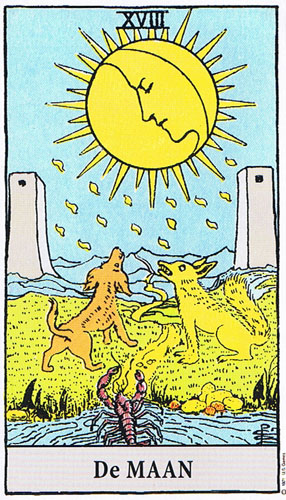 De Maan
Numerologische waarde
9


Element
Aarde


Sterrenbeeld
Vissen


Positieve sleutelwoorden
Risico en avontuur


Negatieve sleutelwoorden
Risico


Verhaal 1
Hier zien we twee honden blaffen naar de maan. De een licht, het ander donker. De maan zelf heeft haar ogen gesloten en kijkt bedenkelijk. Uit het water komt een kreeft, waardoor het water kringen krijgt. In de verte twee torens, waar tussen door het pad loopt, tot in de eeuwigheid.


Betekenis
Fier straalt de zon (de God), maar nors kijkt de maan (de Godin). Er is een vreselijk onbalans, wat je niet ten goede zal komen. De dingen die je gaat ondernemen kennen een groot risico. Een wild avontuur, dat moeilijk te voltooien valt, zal zich voordoen. Wederom is het de hond die ons waarschuwt. Een hond staat voor een trouwe vriend. Het kan dus zijn dat een goede vriend je op de hoogte brengt van risico's, wanpraktijken of negatieve aspecten. Luister naar hem en sla zijn adviezen niet gelijk, zoals de Zot of de Dwaas dat soms doet, in de wind. Het kan de nacht, het onderbewuste of een vrouwelijke energie zijn die ergens de doorslag toe geeft. Begin je aan iets nieuws, wees je dan bewust van de risico's en of je deze wel wil nemen.
In een ander perspectief: de maan staat voor het vrouwelijke, waaronder dromen en intuitie. Wanneer deze kaart naar boven komt in een reading, luister dan naar jezelf. De maan is een erg spirituele kaart, die ons soms wijst op onze eigen spirituele vermogens. Immers heeft iedereen deze in meer of mindere mate. Luister naar de maan, schrijf je dromen op en volg je eerste ingeving!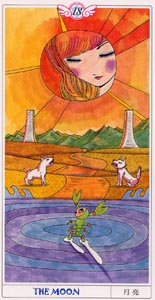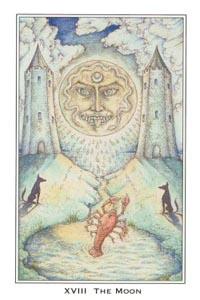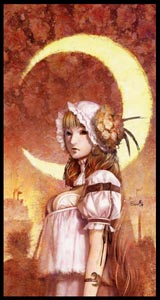 Copyright © 2001 - 2020 Book of Shadows - Alle rechten voorbehouden