Book of Shadows
[ Friday 8 December 2023 - verdwijnende maan - Log in/registreer - Zoeken ]
Home
Nieuws
Gezondheid
Bewustwording
Voeding
Beweging
Pilates
Tai Chi
Yoga
Introductie
Geschiedenis
Stromingen
Yoga van Pranayama
Yoga van Asana
Yoga van Dhyana
Literatuur
Spiritualiteit
Alternatief
Engelen
Introductie
Functies
Literatuur
Gidsen
Introductie
Contact
Oefeningen
Literatuur
Intuitie
Introductie
Helderweten
Helderzien
Helderhoren
Heldervoelen
Helderproeven
Helderruiken
Oefeningen
Literatuur
Kleuren
Re´ncarnatie
Wierook
Introductie
Soorten
Houders
Literatuur
Divinatie
Astrologie
Introductie
Geschiedenis
De Dierenriem
De Drie Pilaren
Literatuur
Numerologie
Pendelen
Introductie
Waarmee
Oefeningen
Literatuur
Runen
Introductie
Runentekens
Literatuur
Tarot
Introductie
Functie
Geschiedenis
Kaarten
Legpatronen
Decks
Oefeningen
Literatuur
Healing
Aura
Introductie
Lagen
Oefeningen
Literatuur
Chakra
Introductie
Kleuren
Oefeningen
Literatuur
Edelstenen
Energie
Reiki
Introductie
Geschiedenis
Grandmasters
Stromingen
Inwijdingen
Graden
Behandeling
Literatuur
Paganisme
Dru´den
Hekserij
Magie
Paganisme
Wicca
Paranormaal
Entiteiten
Ouijabord
Introductie
Borden
Glaasje draaien
Literatuur
Telekinese
Telepathie
Introductie
Documentatie
Oefeningen
Literatuur
Praktijk
Achtergrond
Dienstenaanbod
Tarieven
Reserveren
Contact
Community
Agenda
Columns
Chat
Polls
Forum
Online divinatie
Tarot
Webshop
Contact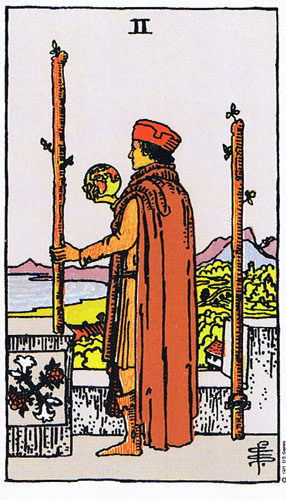 Staven Twee
Numerologische waarde
2


Element
Vuur


Positieve sleutelwoorden
Verbetering, creatieve keuzes


Negatieve sleutelwoorden
Tweestrijd, keuzes


Verhaal 1
Op een toren van een hoog gebouw kijkt een man uit over het land en het water dat voor hem ligt. In zijn rechterhand draagt hij de aardbol, in zijn linkerhand houdt hij een staf vast. Aan zijn kleding te zien is hij wel bedeeld.


Betekenis
Het getal twee staat voor dualiteit. Wanneer wij de kaart van staven twee trekken wordt bevestigd dat wij voor een keus staan: kiezen wij voor onszelf, of voor het geheel? Een keuze tussen ideeen en idealen. Gaan we voor de praktische en materiele zaken, of voor succes op de langere termijn?
Staven vraagt ons creatief te zijn bij het maken van onze keuze. Wees moedig en ga eens voor een andere aanpak, voor een keuze die niemand anders eerder heeft gemaakt. Neem de leiding en probeer je omgeving op een positieve manier te verbeteren.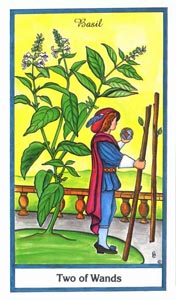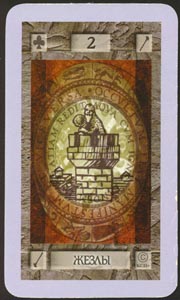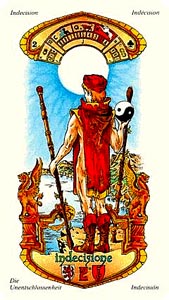 Copyright © 2001 - 2023 Book of Shadows - Alle rechten voorbehouden