Book of Shadows
[ Wednesday 27 September 2023 - bijna volle maan - Log in/registreer - Zoeken ]
Home
Nieuws
Gezondheid
Bewustwording
Voeding
Beweging
Pilates
Tai Chi
Yoga
Introductie
Geschiedenis
Stromingen
Yoga van Pranayama
Yoga van Asana
Yoga van Dhyana
Literatuur
Spiritualiteit
Alternatief
Engelen
Introductie
Functies
Literatuur
Gidsen
Introductie
Contact
Oefeningen
Literatuur
Intuitie
Introductie
Helderweten
Helderzien
Helderhoren
Heldervoelen
Helderproeven
Helderruiken
Oefeningen
Literatuur
Kleuren
Re´ncarnatie
Wierook
Introductie
Soorten
Houders
Literatuur
Divinatie
Astrologie
Introductie
Geschiedenis
De Dierenriem
De Drie Pilaren
Literatuur
Numerologie
Pendelen
Introductie
Waarmee
Oefeningen
Literatuur
Runen
Introductie
Runentekens
Literatuur
Tarot
Introductie
Functie
Geschiedenis
Kaarten
Legpatronen
Decks
Oefeningen
Literatuur
Healing
Aura
Introductie
Lagen
Oefeningen
Literatuur
Chakra
Introductie
Kleuren
Oefeningen
Literatuur
Edelstenen
Energie
Reiki
Introductie
Geschiedenis
Grandmasters
Stromingen
Inwijdingen
Graden
Behandeling
Literatuur
Paganisme
Dru´den
Hekserij
Magie
Paganisme
Wicca
Paranormaal
Entiteiten
Ouijabord
Introductie
Borden
Glaasje draaien
Literatuur
Telekinese
Telepathie
Introductie
Documentatie
Oefeningen
Literatuur
Praktijk
Achtergrond
Dienstenaanbod
Tarieven
Reserveren
Contact
Community
Agenda
Columns
Chat
Polls
Forum
Online divinatie
Tarot
Webshop
Contact
Ouijabord
______ Introductie
Het ouijabord, een bord bestaande uit de letters van het alfabet, de cijfers 0 t/m 9, ja, nee en tot ziens, wordt al eeuwen gebruikt om antwoorden te vinden. Er zijn twee verschillende theorieŰn die een verklaring uiteenzetten over de antwoorden die men via het ouijabord verkrijgt. Maar wat is waar? Is het ouijabord een onschuldig middel om het onderbewuste te raadplegen? Of wordt er daadwerkelijk contact gelegd met entiteiten, die het niet altijd best met ons voorhebben?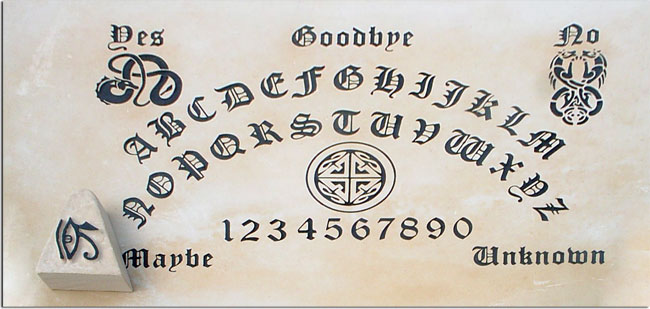 ______ Kennismaking
Het ouijabord, letterlijk vertaald uit het Frans en Nederlands/Duits het "jajabord", heeft zijn wortels al in de vroege geschiedenis van de Egyptenaren. Tegenwoordig is het ouijabord een glad, houten bord, met daarin de 26 letters van het alfabet gebrand of erop geschilderd. Daar aan toegevoegd zijn er nog de woorden ja, nee, tot ziens en soms ook hallo. Op het bord plaatst men een glas of een stukje hout met een oog in het midden, dat groot genoeg is om een letter erdoor te zien, of een puntvormig stukje hout dat de letters kan aanwijzen. Door met een aantal mensen aan tafel te gaan zitten en ieder een vinger op het glas/stukje hout te leggen, kan men vragen stellen. Het bord zal dan hierop antwoorden met ja, nee of door woorden te spellen. Nog steeds worden in verschillende spellenwinkels in Amerika, de borden verkocht.
De huidige vorm van het ouijabord is sinds 1898 vastgelegd door William en Isaac Fuld uit Baltimore in Maryland. Zij begonnen toenmaals met de productie van de borden, als spel zijnde.


______ Onderbewustzijn
Zoals iedereen weet is er een verschil tussen het dagelijks bewustzijn en hetgeen weggestopt is, het zogeheten onderbewustzijn. Elementen die we oppikken uit verhalen, uit televisie programma's, feiten, data etc. worden opgeslagen in ons onderbewustzijn. Niet iedereen heeft zomaar toegang tot zijn onderbewustzijn. Voordat men het kan raadplegen zijn vaak bepaalde handelingen vereist of voorwerpen nodig. Zo werkt een sjamaan met trances en astrale reizen om zijn onderbewustzijn te raadplegen. Omdat het bereiken van een staat van trance vaak veel moeite kost en soms via bepaalde (synthetische)stoffen beter te bereiken zijn (denk aan paddenstoelen en drugs), verkiezen mensen liever een methode die minder inspannend en "gezonder" is. Bijvoorbeeld het ouijabord.
Tijdens een ouija-sessie komen vaak toch feiten, elementen en namen naar boven, die niet uit ons dagelijks bewustzijn te halen zijn. Er wordt soms zelfs aangegeven dat het een entiteit betreft die alles doorgeeft. Maar is dat ook zo?


______ Hoe ouijaborden werken
We kunnen niet zomaar stellen dat we Jan de Vries uit Bornebroek niet kennen of nooit gezien hebben. Wie weet werd deze naam gebruikt in een boek, of is deze man eens op tv geweest. Omdat hij een niet al te diepe indruk heeft gemaakt, zou het kunnen dat we hem naar ons onderbewustzijn verplaatst hebben. Tijdens een ouija-sessie komt een geest naar voren, die claimt Jan de Vries uit Bornebroek te zijn. Wij kunnen dan niet met 100% zekerheid zeggen dat wij deze Jan niet kennen. Wij kunnen niet aantonen dat wij nooit een programma op tv hebben gezien over het leven van Jan de Vries uit Bornebroek en we kunnen niet bewijzen dat hij een geest is die met ons communiceert.

Waarschijnlijk zal het een combinatie zijn van zowel het onderbewuste als van signalen van buiten af. Het zijn namelijk niet alleen geesten die informatie doorgeven:
Een voorbeeld hiervan is ontleend aan B.J.J. Visser. Hij schreef een boek getiteld Parapsychologie, waarin hij het volgende voorbeeld gaf:


"Het volgende is een zeer nauwkeurig onderzocht kruisbordexperiment:
Op 23 juli 1922 werd in Vlissingen, 's avonds omstreeks 8 uur, een zitting houden, waarbij zeven aanwezigen. Vier daarvan hielden het kruis vast. Er meldde zich een Engelse 'intelligentie' die een 'eveningson', dus een avondlied openbaarde.
Het kruis tikte het volgende aan:

Thesunhassetandnowanewwithfallendewthegrassiswettfrstparteachlittlebirdbassunkstorestwithsnetstnosngishear"
Om de letters aan te wijzen, gebruikten deze mensen een kruis met in het midden een potlood met de punt omlaag. Zo wees het potlood telkens de letters aan die door de Engelse "intelligentie" werden doorgegeven. In feite was deze "intelligentie" niet Engels, maar Nederlands:
Tegenover het huis waar de zitting (de ouija-sessie) werd gehouden, woonde een 15 jarige jongen, Piet. Hij wou ook graag bij de sessies aanwezig zijn, maar gezien zijn leeftijd was het niet toegestaan. De avond van de sessie zat Piet verveeld op zijn kamer en kwam daar een oud Engels schoolboek tegen. In dat boek vond hij een liedje, "Evening Song" getiteld. Daarvan kende hij de eerste twee verzen nog van uit zijn hoofd:


The sun has set
and now anew
with fallen dew
the grass is wet.

Each little bird
has sunk to rest
within its nest;
no song is heard.
Het voorval toont in ieder geval aan dat de antwoorden van ouijaborden niet uitsluitend afkomstig hoeven te zijn van het onderbewustzijn.


______ Entiteiten
Iedereen heeft wel eens een film gezien met geesten en paranormale voorvallen. In hoeveel van de films die je hebt gezien, waren de geesten goedaardig? Nu is een film wel heel wat anders dan de realiteit, maar toch kent een film ook zo zijn waarheden.

Bij een ouija-sessie zitten er meerdere mensen aan een tafel die elk een vinger op het glas of stukje hout hebben liggen, dat de letters aanwijst. Een van deze mensen fungeert als leider, die contact zal leggen. Deze vraagt meestal aan het begin van een sessie of er iemand aanwezig is die wil spreken. Er van uitgaande dat het entiteiten zijn die geen fysiek lichaam hebben, en toch energie nodig hebben om te kunnen antwoorden, gebruiken ze energie van de leider. Het is begrijpelijk dat hij of zij op den duur uitgeput zal raken. Belangrijk is dan ook dat de leider een emotioneel stabiel persoon is, met genoeg ervaring en genoeg energie.

Het gebruik van het ouijabord trekt namelijk veelal eenzame en gevaarlijke entiteiten aan, die op zoek zijn naar contact!

Zoals men zegt: soort zoekt soort. En dat is ook hier aan de orde. Een lage entiteit zal op zoek gaan naar iemand die onervaren is, iemand die gemakkelijk te imponeren is en die weinig energie heeft. Dit brengt vele gevaren met zich mee.


______ Gevaren
In Amerika zijn ouijaborden algemeen bekend. Ze worden zelfs verkocht in speelgoedwinkels als spelletjes zijnde. Maar is het ook een spel?
Natuurlijk is het spelen met entiteiten, met energieŰn die wij niet kennen nooit een goed idee!

Er zijn mensen die je uit ervaring afraden om niet op deze manieren met entiteiten te spelen. Zij hebben gemerkt dat na of tijdens een sessie voorwerpen uit zichzelf bewogen. Zo vielen er beeldjes om, vielen er boeken uit de kast, verdwenen voorwerpen die later opeens wel weer op de eigenlijke plek lagen etc. Nu zullen er altijd mensen zijn die dit niet zo eng vinden of die hier niet in geloven. Dit zijn de minder enge verhalen.

Het zien van entiteiten, het horen van voetstappen, het voelen van een geest om je heen die net zo echt aanvoelt als een mens van vlees en bloed is geen pretje. Maar het kan nog erger. Het komt voor dat geesten, al dan niet ongevraagd bezit nemen van je lichaam. Soms zul je er weinig van merken, alleen zo af en toe een stem in je hoofd. Het kan ook zijn dat deze geest je lichaam overneemt, wat dus wil zeggen dat jij weinig tot geen controle meer hebt over je eigen lichaam.

"Een stem in je hoofd is toch niet zo erg? Die negeer je gewoon!"
Dat is wat je denkt. Als jij 45 van de 60 seconden die een minuut heeft de hele dag door een stem hoort die je aanzet tot (zelf)moord en andere rare fratsen, daar wordt je echt niet vrolijk van. De diagnose van de dokter is een Multiple Persoonlijkheids Syndroom, schizofrenie of een psychose, omdat jij niet kunt bewijzen dat er een geest in je lichaam zit. Tot slot bewijs je een gevaar voor jezelf en voor de samenleving te zijn, dat kan eindigen in (zelf)moord en/of dwangmatige opname in een psychiatrische inrichting waar je nooit meer het daglicht zult zien.


______ Geschrokken
Ben je geschrokken van voorgaand verhaal? Heel goed! Veel mensen weten namelijk niet waar ze mee beginnen, als ze gezellig een avondje met het ouijabord spelen.

Natuurlijk hoeft het niet altijd zo te lopen. Er zijn genoeg mensen die wel weten hoe ze veilig met het ouijabord overweg kunnen. Praat eens met hen, misschien dat zij je een training of workshop kunnen aanbieden wat betreft het contact maken met entiteiten via het ouijabord. Maar let wel:

Ga in geen geval zonder een ervaren paragnost/medium aan de slag met het ouijabord!


______ Bescherming
Mocht je aan de slag gaan met iemand die ervaring heeft met het ouijabord, zorg dan dat je jezelf afsluit voor negatieve energie. Dit is niet zo moeilijk. Ga voordat je begint even ergens rustig zitten en brand wat beschermende wierook die positieve energie aantrekt en negatieve energie uitbant, bijvoorbeeld lotus, sandelhout of anjer. Sluit je ogen en stel je voor dat je in een stralend witte ruimte rondzweeft. Zie hoe je aura in verschillende lagen en kleuren om je heen zit. Vraag in gedachten je gidsen en beschermengelen (ook al ken je ze niet) je te beschermen tijdens de ouija-sessie. Zie hoe zij energie uit hun handen laten vloeien die om jou en je aura heen een prachtige gouden doorzichtige cocon vormt, die je tegen alle negatieve energie zal beschermen.
Je kunt nog even mediteren en je gidsen en beschermengelen bedanken voor hun kracht en hun bescherming. Mocht je tijdens de ouija-sessie het gevoel hebben dat iets niet goed zit. Zeg dat dan tegen de contactpersoon en vraag of deze wil stoppen.


______ Schoonmaken
Het schoonmaken van de ruimte waar de sessie gehouden is, is absoluut geen slecht idee. Nu bedoel ik niet dat je een bezem en schoonmaak doekje moet pakken en flink moet gaan boenen. We bedoelen hier het spiritueel reinigen van een ruimte. Brand reinigende, positiviteit aantrekkende wierook. Ga mediteren in de ruimte en visualiseer hoe de ruimte zich vult met wit licht en hoe al het donkere weg trekt.
Je kunt eventueel ook wat kaarsen branden, spreuken uitspreken en energie (bijvoorbeeld Reiki) sturen.


Copyright © 2001 - 2023 Book of Shadows - Alle rechten voorbehouden