Book of Shadows
[ Wednesday 27 September 2023 - bijna volle maan - Log in/registreer - Zoeken ]
Home
Nieuws
Gezondheid
Bewustwording
Voeding
Beweging
Pilates
Tai Chi
Yoga
Introductie
Geschiedenis
Stromingen
Yoga van Pranayama
Yoga van Asana
Yoga van Dhyana
Literatuur
Spiritualiteit
Alternatief
Engelen
Introductie
Functies
Literatuur
Gidsen
Introductie
Contact
Oefeningen
Literatuur
Intuitie
Introductie
Helderweten
Helderzien
Helderhoren
Heldervoelen
Helderproeven
Helderruiken
Oefeningen
Literatuur
Kleuren
Re´ncarnatie
Wierook
Introductie
Soorten
Houders
Literatuur
Divinatie
Astrologie
Introductie
Geschiedenis
De Dierenriem
De Drie Pilaren
Literatuur
Numerologie
Pendelen
Introductie
Waarmee
Oefeningen
Literatuur
Runen
Introductie
Runentekens
Literatuur
Tarot
Introductie
Functie
Geschiedenis
Kaarten
Legpatronen
Decks
Oefeningen
Literatuur
Healing
Aura
Introductie
Lagen
Oefeningen
Literatuur
Chakra
Introductie
Kleuren
Oefeningen
Literatuur
Edelstenen
Energie
Reiki
Introductie
Geschiedenis
Grandmasters
Stromingen
Inwijdingen
Graden
Behandeling
Literatuur
Paganisme
Dru´den
Hekserij
Magie
Paganisme
Wicca
Paranormaal
Entiteiten
Ouijabord
Introductie
Borden
Glaasje draaien
Literatuur
Telekinese
Telepathie
Introductie
Documentatie
Oefeningen
Literatuur
Praktijk
Achtergrond
Dienstenaanbod
Tarieven
Reserveren
Contact
Community
Agenda
Columns
Chat
Polls
Forum
Online divinatie
Tarot
Webshop
Contact
Borden
______ Introductie
Het ouijabord is een glad houten bord met de letters van het alfabet, de cijfers 0 t/m 9, de woorden "ja", "nee", "tot ziens" en soms ook "hallo". Er zijn veel verschillende ouijaborden. Grote verschillen tussen de borden op zich zijn er niet. De verschillen zitten meestal in:

of de letters geschilderd zijn of gebrand/gegraveerd
de symbolen die op het ouijabord geschilder, gebrand of gegraveerd zijn
de vorm van de planchet (hetgeen waar de vingers op geplaatst worden)
de grote en de kleur
______ Aanschaf
Ouijaborden zijn in Nederland niet zomaar overal verkrijgbaar. Wil je per se een bord hebben, kijk dan eens op Amerikaanse sites waar je ze online zou kunnen bestellen.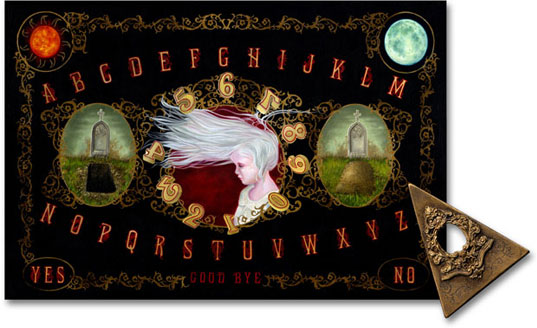 Copyright © 2001 - 2023 Book of Shadows - Alle rechten voorbehouden