Book of Shadows
[ Friday 8 December 2023 - verdwijnende maan - Log in/registreer - Zoeken ]
Home
Nieuws
Gezondheid
Bewustwording
Voeding
Beweging
Pilates
Tai Chi
Yoga
Introductie
Geschiedenis
Stromingen
Yoga van Pranayama
Yoga van Asana
Yoga van Dhyana
Literatuur
Spiritualiteit
Alternatief
Engelen
Introductie
Functies
Literatuur
Gidsen
Introductie
Contact
Oefeningen
Literatuur
Intuitie
Introductie
Helderweten
Helderzien
Helderhoren
Heldervoelen
Helderproeven
Helderruiken
Oefeningen
Literatuur
Kleuren
Reďncarnatie
Wierook
Introductie
Soorten
Houders
Literatuur
Divinatie
Astrologie
Introductie
Geschiedenis
De Dierenriem
De Drie Pilaren
Literatuur
Numerologie
Pendelen
Introductie
Waarmee
Oefeningen
Literatuur
Runen
Introductie
Runentekens
Literatuur
Tarot
Introductie
Functie
Geschiedenis
Kaarten
Legpatronen
Decks
Oefeningen
Literatuur
Healing
Aura
Introductie
Lagen
Oefeningen
Literatuur
Chakra
Introductie
Kleuren
Oefeningen
Literatuur
Edelstenen
Energie
Reiki
Introductie
Geschiedenis
Grandmasters
Stromingen
Inwijdingen
Graden
Behandeling
Literatuur
Paganisme
Druďden
Hekserij
Magie
Paganisme
Wicca
Paranormaal
Entiteiten
Ouijabord
Introductie
Borden
Glaasje draaien
Literatuur
Telekinese
Telepathie
Introductie
Documentatie
Oefeningen
Literatuur
Praktijk
Achtergrond
Dienstenaanbod
Tarieven
Reserveren
Contact
Community
Agenda
Columns
Chat
Polls
Forum
Online divinatie
Tarot
Webshop
Contact
Reiki
______ Introductie
Reiki valt onder de noemer van alternatieve geneeswijzen. Het is een vorm van handoplegging en wordt vaak vergeleken met magnetiseren.
Reiki kan gebruikt worden om het genezingsproces te versnellen, pijn te verzachten, het lichaam te ontgiften, energieën te balanceren, stress te verminderen en jezelf in contact te brengen met je innerlijke zelf en je gevoelens. Het is een vriendelijke energievorm waar iedereen gebruik van kan maken, mits men zich er voor openstelt. Het kan geen kwaad doen en heeft zijn effect al duizenden jaren bewezen.


______ Omschrijving
Reiki is een vorm van handoplegging waarvan we weten dat het reeds voor aanvang van onze jaartelling gebruikt werd. Door je handen op bepaalde manieren te plaatsen of door ze vlak boven het lichaam te houden kan deze subtiele en voor het blote oog onzichtbare energie doorgegeven worden. De Reiki-energie activeert ons zelfgenezingsproces en kan ons helpen sneller te genezen en pijn te verzachten. Reiki wordt daarom vaak vergeleken met magnetiseren, maar met het verschil dat magnetiseren het doorgeven van de eigen energie is en Reiki het doorgeven van Universele Energie. Reiki betekent dan ook Universele Energie en is onuitputtelijk. Het vermoeid de gever niet en voorkomt dat de behandelaar ziektes en negatieve energie van de te behandelen persoon overneemt. Het kalmeert, brengt rust en balans.
Het is een energievorm die iedereen, jong of oud, kan leren gebruiken en kan doorgeven aan anderen. Het is zachtaardig en kan geen kwaad doen.
Reiki heeft bijzonder veel mogelijkheden qua toepassingen. Je kunt het bijvoorbeeld gebruiken om het genezingsproces te activeren en\of te versnellen. Dat wil zeggen dat een zieke eerder beter kán worden. Maar het werkt niet alleen op fysiek niveau. Het kan zowel fysiek als emotioneel, psychisch en spiritueel werken. Zo kunnen bijvoorbeeld trauma's losgelaten worden door de Reiki-energie en kunnen blokkades in energiecentra's opgeheven worden.
De sceptici onder ons zullen zich nu afvragen: "Wat heb je aan een systeem dat met het blote oog niet zichtbaar is en kán helpen. Het is dus helemaal niet zeker dat het helpt, of wel?"
Reiki werkt altijd, maar misschien niet altijd op de manier waar wij op hopen of dat we verwachten. Reiki is een liefdevolle energie met een eigen intelligentie maar doet altijd goed. Want behalve het fysieke genezingsproces kan deze Universele Levensenergie ook emotionele blokkades opheffen, mensen helpen met psychische problemen of spirituele problemen verhelpen. Afhankelijk van de ernst van het probleem zal Reiki werken waar de energie het hardst nodig is. Daarnaast zijn er in ons spirituele lichaam links naar ons fysieke lichaam. Wanneer wij bijvoorbeeld een blokkade hebben in ons basischakra – een van de zeven grote energiecentra die we kennen - dan kunnen wij pijn ervaren in onze rug. Reiki kan hierbij helpen om de pijn in de rug te verminderen of zelfs geheel weg te nemen. Dit doet zij echter niet door de pijn te bestrijden maar door de oorzaak aan te pakken. In dit geval is dat een blokkade in de basischakra. Reiki behoeft daarom geen sturing. Het weet waar het zijn moet en zal de oorzaak in plaats van het gevolg bestrijden.

Reiki kan veel, maar vervangt niet de reguliere geneeskunst!

Nu alternatieve geneeswijzen ingeburgerd raken in ons maatschappelijk welzijn en vele zorgverzekeraars al bereidt zijn deze geneeswijzen te vergoeden, moeten we niet het verschil tussen reguliere en alternatieve geneeskunst vergeten.
Reiki is een aanvullende techniek om te gebruiken naast de reguliere geneeskunst. Het is bekend dat Reiki kan helpen bij ontstekingen en bijvoorbeeld nierstenen. Toch is het belangrijk altijd eerst een dokter te bezoeken alvorens een Reiki-behandelaar te consulteren. Een dokter kan namelijk vaststellen waar een bepaalde aandoening vandaan komt. Het is belangrijk de oorzaak aan te pakken samen met de gevolgen. Als je alleen de gevolgen aanpakt, blijf je altijd klachten houden. Bezoek bij fysieke of psychische aandoeningen dus altijd eerst een (huis)arts. Nadat je een dokter hebt bezocht en eventueel een behandeling gestart bent, kun je Reiki als aanvullende behandeling toepassen. Een voorbeeld:

Je fietst in hartje winter over straat en het is glad door ijzel. Een oudere man steekt de straat over en glijdt uit. Er schieten mensen te hulp, een van hen is een dokter. Hij constateert meteen dat de oude man zijn pols gebroken heeft. Nu zal je denken, "Reiki kan veel, dus laat ik die man helpen door zijn arm te genezen". Dit is heel aardig van je, maar zo werkt het niet. Een botbreuk moet altijd eerst gezet worden. De Reiki zal namelijk het helingsproces activeren en de botten weer aan elkaar laten groeien. Dit is een natuurlijk proces en wordt door de Reiki-energie versterkt en versneld. Als de botbreuk echter niet eerst rechtgezet wordt dan zullen de botten niet recht aan elkaar groeien.
Daarom is het dus belangrijk om eerst de dokter zijn werk te laten doen - in dit geval het bot recht laten zetten - en pas daarna Reiki te geven.

Reiki is niet een energie die (op fysiek vlak) zelf geneest, maar Reiki activeert het genezingsproces van de ontvanger. Het is een natuurlijke energie die via de kruinchakra het lichaam binnenkomt en via de handchakra's doorgegeven kan worden. Reiki kan aan alles met een energetische waarde gegeven worden. Van mens tot dier, van plant tot (edel)steen. Zelfs levenloze voorwerpen kun je Reiki geven, bijvoorbeeld om hun energie te balanceren of om negatieve energie te verwijderen.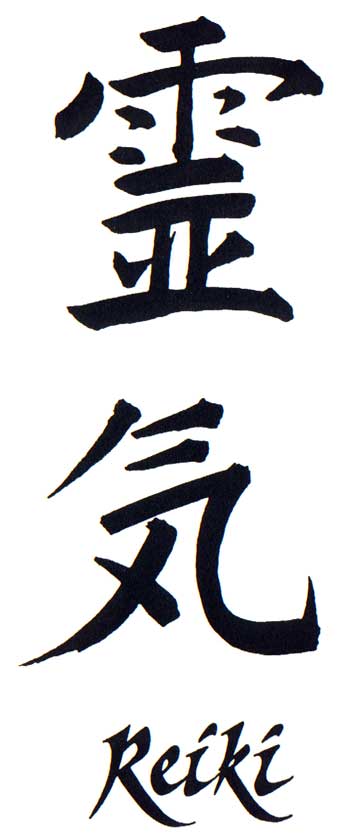 ______ Het karakter Reiki
Als je naar de Japanse Reiki karakters (kanji) kijkt, zul je zien dat ze uit twee delen bestaan. Samen vormen ze het woord Reiki:

Het onderste kanji betekent Ki.
Het woord Ki kennen de meeste mensen wel. Het schuilt bijvoorbeeld in Aikido, Tai Chi en Qi Gong. Ki, Xi, Chi, Ch'i zijn verschillende talen en verschillende spellingswijzen voor een woord. Eigenlijk komen ze dus allen op hetzelfde neer: energie.
Door de toevoeging van de bovenste kanji ontstaat het woord Reiki.
Het karakter Rei staat voor levens, of voor universeel. Samen maakt het karakter dus Reiki en kan vertaald worden als Universele (Levens)Energie.


______ Universele (levens)energie
De naam Reiki en zijn betekenis impliceren dat het voor eenieder beschikbaar is. Immers is universeel "in alle gevallen bruikbaar" en "alles omvattend". Kort en simpel gezegd: ja, Reiki kan door iedereen gebruikt worden en is voor iedereen geschikt. Toch moeten we rekening houden met bepaalde zaken, zoals in bovenstaand voorbeeld de botbreuk die eerst gezet moet worden voordat we het genezingsproces willen versnellen. Om goed te begrijpen hoe Reiki werkt is het belangrijk om te weten waar Reiki vandaan komt. We doelen dan niet op haar geschiedenis maar verwijzen naar haar bron.
Universele (levens)energie duidt niet alleen op het feit dat het in alle gevallen bruikbaar is en voor iedereen geschikt is. Het geeft ook aan dat het allesomvattend is. In dit geval wordt de bron van Reiki aangeduid. Sommigen noemen deze primaire bron van leven God. Anderen noemen hem Allah. Sommige wenden zich tot Boeddha als allesomvattende bron, anderen noemen haar de Godin. Er zijn ook mensen die verwijzen naar de Kosmos omdat dit een meer algemeen begrip is.
Het mooie van Reiki is, is dat het geen geloof, religie of sekte is. Het is een systeem van natuurlijk genezen dat zowel door christenen als boeddhisten, paganisten als hindoeisten gebruikt wordt. Er zijn ook atheďsten die Reiki gebruiken. Het is wijd verspreidt over de hele wereld en staat los van elke religie of welk geloof dan ook. Vandaar dat er in dit artikel over Reiki niet verwezen zal worden naar God, de Godin of de Kosmos. Wij zullen verwijzen naar de Bron, als oorsprong van alle spiritualiteit. Zo kan eenieder die dit leest voor zichzelf bepalen wat hij of zij invult voor de Bron, de herkomst van het goddelijke in ons.

De energie die wij Reiki noemen is niet iets nieuws. Degene die het herontdekt heeft (daarover later meer) heeft niet opnieuw het wiel uitgevonden. Maar om aan te duiden dat het om een systeem van natuurlijk genezen gaat en het hoofdzakelijk voor dat doel gebruikt wordt, heeft hij het Reiki genoemd. Naast Ki heb je misschien wel eens gehoord van prana (Indiaas), mana (Polynesisch) of ruach (Hebreeuws). Het concept van deze goddelijke levensenergieën zijn allemaal hetzelfde en zijn ouder dan onze jaartelling. Allen zijn ze afkomstig van de Bron en kunnen door iedereen ontvangen worden.


______ Reiki leren
Een ander aspect van het universele aan Reiki is dat het een systeem is. Het is een methode voor natuurlijk genezen. Er wordt gezegd dat in de Atlantische tijd en nog ver daarvoor ieder kind Reiki leerde gebruiken. Reiki was voor iedereen beschikbaar en eenieder was gezegend met deze helende gaven. Door de ondergang van deze culturen zijn veel mystieke systemen verloren gegaan, waaronder voor lange tijd Reiki.

Als je geboren wordt, sta je nog in verbinding met de Bron. Je bent gelinkt aan de oorsprong van al het spirituele leven en kunt daarom gebruik maken van zijn energie. Doordat wij meestal in onze jeugd leren niet in geesten te geloven en spiritualiteit als iets slechts wordt afgeschilderd, verliezen wij het contact met deze bron. Onze chakra's sluiten zich. Mede door alle problemen die op je pad komen slibt deze verbinding die via je kruinchakra loopt, dicht. Baby's kunnen dus zonder problemen gebruik maken van de Reiki-energie. Enkele mensen weten hun verbinding met het hogere in stand te houden en kunnen gebruik blijven maken van de kosmische energie. Sommigen weten zelfs door hun eigen bewustwordingsproces te activeren, de chakra's weer te openen. Bijvoorbeeld door meditatie en yoga. Maar wat nou als wij die verbinding niet meer hebben? Hoe kunnen wij dan toch gebruik maken van Reiki?
Zij die de verbinding verloren hebben kunnen Reiki leren. Je leest het goed; Reiki kun je leren. Reiki is namelijk een techniek, een systeem voor natuurlijk genezen, waarin men onderwijs kan volgen. Dit wordt veelal gedaan in groepscursus verband.
Tijdens zo een Reikicursus leert een Reikimaster - een Reikileraar - je hoe je met de Reiki-energie om kunt gaan. Maar nog belangrijker: hij maakt je kruinchakra open en schoon en verzegeld deze zodat hij niet meer dicht kan slibben, zodat ook jij Reiki-energie kunt gebruiken en door kan geven. Dit proces noemen we een inwijding en we zullen dit later nog uitgebreid bespreken.


______ Zo werkt het
De levensenergie die wij ontvangen komt via je kruinchakra je lichaam binnen. Je kruinchakra is het 7e energiecentrum en bevindt zich rond je kruin. Het staat voor spiritualiteit en de verbinding met het hogere. Het is niet in je fysieklichaam aanwezig en is daarom, net als Reiki, niet zichtbaar. Het zit in een van de vele lagen van onze aura. Reiki komt via je kruinchakra binnen en kan zo door je hele aura verplaatsen. Door je handen ergens op te leggen of vlak boven te houden kan je de energie doorgeven. Zo kan je dus mensen of dieren maar ook edelstenen of water Reiki geven.
Zoals sommige mensen een fles bronwater voor de speakers zetten zodat Jomanda het water kan instralen, kan je met Reiki ook water instralen. Simpelweg door je handen om de fles te leggen. Hier hoef je niets voor te doen. Als je eenmaal de verbinding met de Bron hebt geopend, blijft deze open. Je hoeft dus niet aan Reiki te denken om het te kunnen ontvangen en door te geven. De intentie om te "healen" zal de Reikistroom activeren.
Wanneer je besluit iemand anders Reiki te geven is het van groot belang dat je zelf lekker in je vel zit en dat je je goed voelt. Reiki is een intelligente energie en zal merken, als het door je aura en lichaam gaat, wanneer je eigen energiehuishouden niet in orde is. In dat geval zal het eerst jou helpen voordat het aan iemand anders door gegeven kan worden. Voor het behandelen van anderen is dit niet functioneel aangezien het lang kan duren voordat de Reiki klaar is met het behandelen van jouw lichaam of aura. Aangeraden wordt om Reiki te geven wanneer je zelf in goede psychische, emotionele en fysieke conditie bent.


______ Reiki-behandeling
Zoals beschreven komt Reiki via de kruinchakra het lichaam binnen. Iemand die op deze manier in verbinding staat met de bron van Reiki noemen we een behandelaar of practitioner. Door zijn handen ergens op te leggen kan hij de Reiki-energie doorgeven. Zo kan je dus mensen, maar ook dieren, planten, (edel)stenen of water een Reiki-behandeling geven.
De Reiki-energie die het lichaam binnen komt activeert het zelfgenezingsproces van de persoon, dier of plant. Hierdoor geneest het organisme zichzelf (sneller). Ook kan Reiki energieën balanceren. Een edelsteen die bijvoorbeeld geen energie meer heeft, kun je met behulp van Reiki opladen. Met Reiki kun je ook water instralen. Door eenvoudigweg de handen om een fles te leggen geef je Reiki aan het water. Het water wordt zo gezuiverd en zal een genezend en balancerend effect hebben voor degene die het water drinkt. Je hoeft je handen dus niet in het water te leggen want Reiki is een energiestraal en behoeft geen direct contact. Het kan tot ongeveer zes centimeter afstand gegeven worden en gaat door alles heen. Bij een Reiki-behandeling hoeft men zich daarom niet te ontdoen van zijn kleding want Reiki gaat ook door kledingstukken heen.

Tijdens een Reiki-behandeling ligt de te behandelen persoon op een behandeltafel of deze zit in een comfortabele stoel. Vaak wordt gevraagd om de schoenen uit te trekken en bril en sieraden af te doen. Wanneer men een volledige behandeling ondergaat ligt men meestal op een gemakkelijke behandel- of massagetafel. Tijdens de behandeling zal de behandelde persoon ontspannen liggen. Hij of zij hoeft niets te doen. De practitioner zal rustig zijn handen op verschillende punten van het lichaam plaatsen. De warmte die Reiki geeft zorgt voor een vertederend en rustgevend effect. Het eerste wat je lichaam zal voelen is de ontlading van stress en alledaagse spanning. Het kan zijn dat de behandelaar tijdens de behandeling rustige muziek op zet en (zacht) tegen je praat. Anderen willen zich graag goed kunnen concentreren op het behandelingsproces en hebben liever absolute stilte. In totaal duurt een volledige behandeling ongeveer 75 minuten. In die tijd wordt je lichaam ontdaan van stress, wordt het weer opgeladen met nieuwe vitale energie en worden de chakra's en aura grondig gereinigd.
Wanneer er niet genoeg tijd is om een volledige behandeling te doen, dat wil zeggen dat men niet alle basis handposities af kan gaan, kan er voor gekozen worden om een (ver)korte behandeling te doen. Deze kan ook liggend gebeuren. Wanneer men geen behandeltafel heeft kan de practitioner er voor kiezen om de behandeling zittend te laten plaatsvinden. De practitioner verkort de volledige behandeling door een aantal van de basis handposities weg te laten. Zo kan de tijd van een volledige behandeling – ongeveer 75 minuten – terug gebracht worden tot maximaal 30 minuten.

Degene die de Reiki-energie doorgeeft kan ook zelf gebruik maken van Reiki. Hij kan zijn handen op zijn eigen lichaam plaatsen om zo zichzelf energie te geven. Door de directe verbinding die een practitioner heeft hoeft hij zelfs niet eens zijn handen te gebruiken. Immers: de verbinding is er al! Hij kan Reiki door zijn hele lichaam laten stromen zonder zijn handen te gebruiken.
Reiki werkt op basis van intentie: de intentie om te healen. Healen en healing zijn woorden die gebruikt worden voor genezing middels alternatieve therapieën.


______ Reikicursus
Reiki wordt doorgaans opgedeeld in verschillende graden. Dit is om aan te geven hoe ver iemand staat in zijn Reiki ontwikkeling, want iedere hogere graad brengt nieuwe mogelijkheden en ontwikkelingen met zich mee. In hoeveel graden Reiki wordt opgedeeld is niet voor elk systeem gelijk. Zoals bij velerlei systemen is ook Reiki volop in ontwikkeling. Eigenlijk heeft het nooit stil gestaan maar zeker de laatste honderd jaar – sinds de herontdekking van Reiki – zijn er grote veranderingen doorgevoerd. Er zijn verschillende "soorten" systemen ontstaan. De een gebaseerd op diens visie een ander systeem gebaseerd op iemands anders visie. Hierdoor zijn de graden waar Reiki in te verdelen valt niet meer consequent hetzelfde gebleven.
Voor Usui Reiki Ryoho (het Usui Systeem van Natuurlijk genezen) en vele andere in het Westen bekende Reiki vormen kennen we de verdeling van drie graden maken. Shoden, Okuden en Shinpiden zijn achtereenvolgens de eerste, tweede en derdegraad. Hierbij staat de eerste graad voor een beginnend Reikistudent en de Shinpidengraad staat voor de mastergraad, waarin men leert om zelf Reikicursussen te gaan geven.
In een Reikicursus wordt je de mogelijkheid geboden om Reiki te leren. Afhankelijk van het niveau van de cursus wordt je verder ingewijd in het gebruik van de Reiki-energie.

Reiki 1 - de eerste graad - wordt vaak beschouwd als een cadeautje aan jezelf. Het zal je eerste kennismaking zijn met het rechtstreeks ontvangen en doorgeven van deze energie. Het zal je hele energetisch systeem grondig reinigen en je kruinchakra openzetten middels een zogeheten inwijding.
Natuurlijk leer je in de Reiki 1 cursus hoe je Reiki goed kunt gebruiken en waarvoor. Je leert de geschiedenis achter Reiki kennen en je leert de basis handposities die gehanteerd worden bij behandelingen. Afhankelijk van het systeem dat je volgt en van de leraar van wie je les krijgt leer je technieken en oefeningen bijpassend bij de eerste graad.

Reiki 2, Okuden, wordt gevolgd wanneer men verder wil met Reiki. Bij het volgen van een Reiki 2 cursus leer je nieuwe technieken en krijg je nieuwe inwijdingen. Dit vergroot je mogelijkheden op het doorgeven van energie. Deze ontwikkelingen bieden je de mogelijkheid om met gebruik van symbolen Reiki op afstand te sturen. Dit kan bijvoorbeeld handig zijn als je iemand wil behandelen die niet bij je in de buurt woont. De tweede Reiki graad leert je los van plaats en tijd Reiki te sturen. Daarnaast leer je – ook weer afhankelijk van systeem en leraar – verdere technieken die je vaardigheden vergroten.

Reiki 3 is de mastergraad en besluit de ontwikkeling van de Reikistudent. De derde Reikigraad was oorspronkelijk bedoeld voor mensen die in Reiki les wilden gaan geven. Nog steeds wordt Reiki 3 als mastergraad gezien. Maar omdat niet iedereen Reikimaster wil worden maar wel graag het niveau van een master heeft, zijn er systemen die Reiki 3 opdelen in Reiki 3a en 3b. 3a betreft dan alleen de inwijding dat wederom de capaciteit van de student vergroot. Wanneer men daadwerkelijk les wil gaan geven start men het 3b traject zodat men na voltooiing van deze cursus zichzelf Reikimaster mag noemen.

In het kort waren dit de graden zoals de meeste Reikisystemen ze hanteren. In het hoofdstuk graden zullen we bovenstaande graden verder uitdiepen. Wil je nu al meer informatie over de graden, dan kun je doorklikken naar het betreffende hoofdstuk. Om de ontwikkelingen in de verschillende graden te kunnen begrijpen is het belangrijk dat je het hoofdstuk over inwijdingen eerst leest.


Copyright © 2001 - 2023 Book of Shadows - Alle rechten voorbehouden