Book of Shadows
[ Friday 8 December 2023 - verdwijnende maan - Log in/registreer - Zoeken ]
Home
Nieuws
Gezondheid
Bewustwording
Voeding
Beweging
Pilates
Tai Chi
Yoga
Introductie
Geschiedenis
Stromingen
Yoga van Pranayama
Yoga van Asana
Yoga van Dhyana
Literatuur
Spiritualiteit
Alternatief
Engelen
Introductie
Functies
Literatuur
Gidsen
Introductie
Contact
Oefeningen
Literatuur
Intuitie
Introductie
Helderweten
Helderzien
Helderhoren
Heldervoelen
Helderproeven
Helderruiken
Oefeningen
Literatuur
Kleuren
Reïncarnatie
Wierook
Introductie
Soorten
Houders
Literatuur
Divinatie
Astrologie
Introductie
Geschiedenis
De Dierenriem
De Drie Pilaren
Literatuur
Numerologie
Pendelen
Introductie
Waarmee
Oefeningen
Literatuur
Runen
Introductie
Runentekens
Literatuur
Tarot
Introductie
Functie
Geschiedenis
Kaarten
Legpatronen
Decks
Oefeningen
Literatuur
Healing
Aura
Introductie
Lagen
Oefeningen
Literatuur
Chakra
Introductie
Kleuren
Oefeningen
Literatuur
Edelstenen
Energie
Reiki
Introductie
Geschiedenis
Grandmasters
Stromingen
Inwijdingen
Graden
Behandeling
Literatuur
Paganisme
Druïden
Hekserij
Magie
Paganisme
Wicca
Paranormaal
Entiteiten
Ouijabord
Introductie
Borden
Glaasje draaien
Literatuur
Telekinese
Telepathie
Introductie
Documentatie
Oefeningen
Literatuur
Praktijk
Achtergrond
Dienstenaanbod
Tarieven
Reserveren
Contact
Community
Agenda
Columns
Chat
Polls
Forum
Online divinatie
Tarot
Webshop
Contact
(Grand)masters
______ Titels
Het aantal masters dat Usui inwijdde is niet precies bekend. Dat hij masters had ingewijd, is een ding dat zeker is. Zij zetten Usui's werk voort, tot op de dag van vandaag.
Vanaf Usui's periode tot op heden zijn er verschillende organisaties opgericht, om Reiki te promoten, verbreiden en om haar oorsprong te bewaren. Iedere organisatie heeft zijn eigen geschiedenis en belangrijk(st)e leden.

Toen mevrouw Takata overleed, was er enigszins verwarring in wie haar zou gaan opvolgen. De masters die zij had opgeleid kwamen daarop bij elkaar en ontdekten zo dat ze niet allen hetzelfde geleerd hadden. Zo ontstond het vermoeden dat er onder hen een was die meer geleerd zou hebben dan alle anderen, en dat deze persoon de geheimen van Reiki bij zich droeg. Deze zou de Grandmaster zijn en zou als Reiki-aanspreekpunt een voorbeeld kunnen zijn voor alle masters.
Hiervoor werd Phillis Lei Furumoto gekozen. Ze was de kleindochter van Takata en is sinds het overlijden van haar oma de voorzitter van de Reiki Alliance. Deze organisatie probeert het onderwijs van Takata in stand te houden en door te geven zoals zij het gewild had.

Doordat Phillis Lei Furumoto tot Grandmaster werd benoemd, kunnen we een lijn terug trekken in de tijd, waarin Grandmasters voor Phillis postuum betiteld kunnen worden. Zo kunnen we de volgende lijst maken: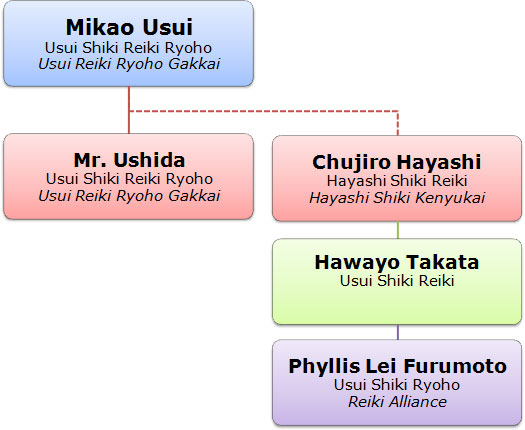 Omdat de titel Grandmaster pas ontwikkeld is toen Phillis Lei Furumoto de taken van mevrouw Takata ging overnemen en daarmee de Reiki Alliance startte, erkent niet iedereen deze titel.
Sinds de oprichting van de Reiki Alliance zijn er vele denominaties ontstaan waardoor er inmiddels meer dan 100 Reikivormen of systemen zijn. Een aantal van deze oprichters en leden zijn van groot belang geweest voor de vorming, ontwikkeling en verspreiding van Reiki. De belangrijkste van hen vind je op deze pagina.


______ Mikao Usui (15 augustus 1865 – 9 maart 1926)
Op 15 augustus 1865 werd Mikao Usui geboren in Taniai-Muro (het huidige Miyama-Cho Yago) Japan. Hij groeide daar op in een Tendai boeddhistisch gezin, bestaande uit zijn twee broers Sanya en Kuniji, zijn zuster Tsuru en zijn vader Uzaemon en zijn moeder wiens naam niet bekend is. Wat we wel weten is dat ze uit de Kawai familie komt.
Mikao Usui leefde van 1865 tot 1926. In die tijd heeft hij hard gewerkt aan zijn eigen en aan zijn spirituele ontwikkeling. Zo was hij Tendai boeddhist, beoefende hij verschillende gevechtskunsten en was hij zijn hele leven op zoek naar spirituele verlichting, in het bijzonder een methode te vinden om te genezen met zijn handen, zonder dat hij hierbij zijn eigen energie weg gaf.
Mikao Usui heeft veel gestuurd, buiten reguliere studies om en behaalde daarom nooit enige titels zoals Dokter of Doctor. De titel Sensei die hij van zijn leerlingen kreeg was echter verdient, want hij was een groot inspirator en leermeester voor velen.
Usui was degene die na lang zoeken Reiki (her)ontdekte. Na 21 dagen vasten, mediteren en chanten lijkt er iets op Mikao Usui af te komen. Zijn jarenlange zoektocht naar spirituele genezing lijkt zijn vruchten af te werpen. Bovenop de berg Kurama krijgt hij een openbaring waarin hem het wonder van Reiki wordt uitgelegd.
Zijn nieuw hervonden wijsheid gebruikt hij om de arme mensen in de sloppenwijken van Kyoto te behandelen. Aan de hand van zijn ervaringen uit deze periode van zijn leven vormt Usui de leefregels voor Reiki.
Hij start zijn eigen sociëteit voor Reiki, Usui Reiki Ryoho Gakkai. Hiervan wordt hij, weliswaar postuum, de eerste president. Of hij overigens de Gakkai zelf stichtte is niet voor 100% zeker; het zou kunnen zijn dat zijn studenten de Gakkai hebben opgericht, al staat op Usui's gedenksteen dat hij zelf de stichter is.


______ Chujiro Hayashi (15 september 1880 – 10 mei 1940)
Op 47 jarige leeftijd ontving de voormalig officier Chujiro Hayashi zijn master inwijding van Usui Sensei. We schrijven het jaar 1925, een jaar voordat Usui het aardse rijk verruilt voor het hemelse. Tot dan toe bestaat het systeem uit de Reiki leefregels, drie Reiki 2 symbolen die Usui heeft toegevoegd, de Usui handposities, de inwijdingen en natuurlijk de Reiki energie zelf.
De door Usui gestichte Gakkai (sociëteit) werd voortgezet, weliswaar niet door Chujiro Hayashi, maar deze blijft wel lid van de Gakkai tot (waarschijnlijk) 1931. Daarna stichtte hij zijn eigen sociëteit genaamd Hayashi Shiki Kenkyukai.
Hayashi opende verschillende klinieken waar hij Reiki als genezing aanbood. In deze klinieken hield hij gedetailleerde verslagen van de gegeven behandelingen bij. De verzamelde informatie gebruikte hij onder meer om een uitgewerkte omschrijving te maken van de handposities. Daarnaast vereenvoudigde hij het inwijdingsproces en maakte het efficiënter door het mastersymbool toe te voegen. Dit zou een reden kunnen zijn waarom Reikimasters na Hayashi een beperkt aantal inwijdingen per graad geven, terwijl Usui adviseerde om zo veel mogelijk inwijdingen te ontvangen.
Alle wijzigingen samen noteerde Hayashi in zijn eigen manual en vormde zo Hayashi Shiki Reiki, zijn eigen Reikisysteem.
In zijn leven trouwde Chujiro met Chie, met wie hij twee kinderen kreeg. Tadayoshi, hun zoon, werd geboren in 1903. In 1910 werd een dochter geboren, genaamd Kiyoe.
Op 10 mei 1940 kwam er abrupt, maar toch gepland een einde aan het leven Chujiro Hayashi. Als voormalig en daarom reserve officier van het Japanse leger, voorzag Hayashi dat hij voor de komende oorlog weer opgeroepen zou worden. Zijn leven was sinds zijn pensioen verandert; hij was een heler en was vastbesloten geen mensen te doden, ook niet in een oorlog. Daarop besloot hij zelf een einde te maken aan zijn leven.


______ Hawayo Takata (1900 – 1980)
Geboren op 24 december 1900 en vernoemd naar de staat Hawaï waar ze geboren is, is Hawayo Kawamuru een grote spil geweest in de ontwikkeling en verplaatsing van Reiki, van Japan naar het Westen.
Hawayo's ouders waren Japanse immigranten die zich op het eiland Kauai hadden gevestigd, waar Hawayo zou opgroeien.
Zelf was te klein en fragiel om net als haar vader op de plantages te werken. Zij werkte daarom erg hard en had andere baantjes, bijvoorbeeld in het onderwijs, ondanks dat ze zelf nog op school zat.
Toen ze van school ging, kon ze aan het werk in het plantagehuis. Ze heeft daar verschillende baantjes gehad, tot ze uiteindelijk hoofd van de huishouding werd. Het was in het plantagehuis waar ze Saichi Takata ontmoette, de accountant van de plantage, die ze op 10 maart 1917 trouwde. Saichi en Hawayo kregen twee dochters, maar het geluk was van korte duur. In oktober 1930 overleed Saichi Takata, op slechts 34 jarige leeftijd, aan de gevolgen van een hartaanval. Hij liet Hawayo Takata alleen achter met haar twee kinderen. Mevrouw Takata, of Takata Sensei zoals ze ook wel eens wordt genoemd, moest voortaal alleen voor haar dochters zorgen. Dit was een zware taak, die haar niet alleen fysiek maar ook mentaal erg uitputte. In de daarop volgende vijf jaren dat ze weduwe was kreeg ze last van buikpijnen, een longaandoening die ademhalingsmoeilijkheden veroorzaakte, bleek ze een aandoening te hebben aan haar galblaas en alsof het nog niet genoeg was volgde er ook nog een zenuwinzinking. Het was duidelijk dat ze zo niet verder kon. Takata had hulp nodig, in de vorm van chirurgisch ingrijpen. Zonder operatie zou ze het niet overleven. Kort hierop overleed een van Hawayo's zussen. Takata's ouders waren inmiddels weer terug in Japan, maar hadden het slechte nieuws over hun dochter nog niet ontvangen. Takata besloot daarop naar Japan te reizen, om haar ouders het trieste nieuws zelf mede te delen. Aldaar werd Takata opgenomen in het Maeda Medical Hospital in Akasaka. Het bleek noodzakelijk dat ze geopereerd moest worden, maar voordat de operatie kon plaats vinden moest Takata eerst op krachten komen. Een aantal weken rust en goed eten zorgde ervoor dat sterk genoeg was om de operatie te ondergaan. Ze had op dat moment een tumor, galstenen en emfyseem. Vlak voor de operatie hoorde ze een stem zeggen "de operatie is niet nodig". De stem herhaalde zich en werd steeds duidelijk. Daarop vroeg Takata aan de dokter of de operatie echt noodzakelijk was. De behandelend arts had van Chujiro Hayashi's Reikikliniek gehoord en vertelde Takata hierover. Het was een alternatief dat zij wel wilde proberen.
Naar het schijnt werd ze dezelfde dag nog naar de kliniek gebracht en werd daar voor langere tijd behandeld. Dagelijks ontving ze Reiki van twee behandelaars tegelijkertijd. Uiteindelijk verbleef Takata, die in het begin nog best sceptisch was want ze wist van toeten noch blazen wat Reiki betreft, vier maanden in de kliniek. Ze genas volledig van al haar lichamelijke kwalen, maar ook geestelijk en emotioneel kwam ze zichzelf weer te boven.
Onder de indruk van de resultaten die ze had behaald, en mede nu ze wist wat Reiki in hield, was ze vastberaden het ook te leren. Maar nee, het werd Takata geweigerd om zelf Reiki te leren. Omdat ze vrouw was? Nee, niet omdat ze vrouw was; omdat ze buitenlandse was! Reiki behoorde tot Japanse gronden en zou het land niet verlaten was Hayashi's gedachte. Een buitenlandse zou Reiki niet kunnen leren. Het ging Hayashi echt om het feit dat Takata van oorsprong Hawaïaanse was en niet om het vrouw zijn. Tenslotte had Hayashi zijn eigen vrouw ook ingewijd in Reiki. Maar Takata was vastbesloten om Reiki te leren. Ze ging terug naar de arts die haar zou opereren en vroeg hem om met Hayashi te gaan praten. Hayashi gaf uiteindelijk toch toe en leerde Takata in het voorjaar van 1936 Reiki 1. Een jaar lang werkte de twee samen, waarna Takata Reiki 2 mocht ontvangen.
Mevrouw Takata keerde in 1937 terug naar Hawaï, waarna ze snel gevolgd werd door Hayashi en zijn dochter. Zij kwamen Takata helpen, Reiki in Hawaï te vestigen. De eerste Reikikliniek werd succesvol geopend in Kapaa.
De laatste Reiki graad ontving Takata in de winter van 1938. Ze zou de dertiende en tevens laatste Reikimaster zijn die Chujiro Hayashi in zou wijden. Hij stierf twee jaar later, in 1940, en benoemde Takata als zijn opvolgster.

Dankzij Takata is Reiki buiten Japan terecht gekomen, waarna het via Amerika, ook Canada en Europa bereikte. Dit alles hebben we aan de eigenwijze en volharde Hawayo Takata - Kawamuru en haar leerlingen te danken.

Tussen 1970 en haar overlijden op 11 december, 1980, wijdde Takata tweeëntwintig masters in. Hieronder vind je de lijst met namen van alle masters van Takata. Dit is de lijst die zij aan haar zus Kay heeft gegeven voordat ze overleed:

George Araki
Barbara McCullough
Beth Grey
Ursula Baylow (overleden)
Paul Mitchell
Iris Ishikura(overleden)
Fran Brown
Barbara Weber Ray
Ethel Lombardi
Wanja Twan
Virginia Samdahl (overleden)
Phyllis Lei Furumoto
Dorothy Baba (overleden)
Mary McFaden
John Gray
Rick Bockner
Bethel Phaigh (overleden)
Harry Kuboi
Patricia Ewing
Shinobu Saito
Kay Yamashita
Barbara Brow

Enkele van deze masters zijn hun eigen weg ingeslagen, hebben nieuwe systemen ontwikkeld en hebben Reiki in een rap tempo verspreid over de hele wereld.


______ Phillis Lei Furumoto
In april 1979 ontving Phillis Lei Furumoto haar master inwijding van haar grootmoeder (Takata), in Keosauqua - Iowa, Amerika.
Voordat Phillis intensief met Reiki bezig ging, groeide ze op in het mid-westen van Amerika. Ze werd al jong ingewijd, maar ging eerst psychologie studeren en werkte daarna in een psychatrisch ziekenhuis.
Phillis accepteerde een uitnodiging van haar grootmoeder om samen met haar rond te Reizen, om aan en voor Reiki te werken. Samen gaven ze behandelingen, eerste en tweede graads Reikicursussen en ze trainden en wijdden masters in.
Toen in 1980 Takata overleed, werd Phillis betiteld tot Grandmaster. Ze was verantwoordelijk voor het voortzetten van Takata's taken.
In 1983 werd na een bijeenkomst van Reikimasters de Reiki Alliance gevormd.


Copyright © 2001 - 2023 Book of Shadows - Alle rechten voorbehouden