Book of Shadows
[ Sunday 4 June 2023 - afnemende maan - Log in/registreer - Zoeken ]
Home
Nieuws
Gezondheid
Bewustwording
Voeding
Beweging
Pilates
Tai Chi
Yoga
Introductie
Geschiedenis
Stromingen
Yoga van Pranayama
Yoga van Asana
Yoga van Dhyana
Literatuur
Spiritualiteit
Alternatief
Engelen
Introductie
Functies
Literatuur
Gidsen
Introductie
Contact
Oefeningen
Literatuur
Intuitie
Introductie
Helderweten
Helderzien
Helderhoren
Heldervoelen
Helderproeven
Helderruiken
Oefeningen
Literatuur
Kleuren
Re´ncarnatie
Wierook
Introductie
Soorten
Houders
Literatuur
Divinatie
Astrologie
Introductie
Geschiedenis
De Dierenriem
De Drie Pilaren
Literatuur
Numerologie
Pendelen
Introductie
Waarmee
Oefeningen
Literatuur
Runen
Introductie
Runentekens
Literatuur
Tarot
Introductie
Functie
Geschiedenis
Kaarten
Legpatronen
Decks
Oefeningen
Literatuur
Healing
Aura
Introductie
Lagen
Oefeningen
Literatuur
Chakra
Introductie
Kleuren
Oefeningen
Literatuur
Edelstenen
Energie
Reiki
Introductie
Geschiedenis
Grandmasters
Stromingen
Inwijdingen
Graden
Behandeling
Literatuur
Paganisme
Dru´den
Hekserij
Magie
Paganisme
Wicca
Paranormaal
Entiteiten
Ouijabord
Introductie
Borden
Glaasje draaien
Literatuur
Telekinese
Telepathie
Introductie
Documentatie
Oefeningen
Literatuur
Praktijk
Achtergrond
Dienstenaanbod
Tarieven
Reserveren
Contact
Community
Agenda
Columns
Chat
Polls
Forum
Online divinatie
Tarot
Webshop
Contact
Legpatronen
______ Interpretatie
Een extra invloed op het interpreteren van tarot kaarten, is je intuitie. Aan de hand van de soort legging, de positie en de kaart die er ligt, bepaal je de betekenis. Maar vaak is het je intuitie die je op bepaalde elementen van de kaarten wijst. Denk nog eens terug aan het voorbeeld van pentakels zes. Drie personages, drie verhaallijnen en drie mogelijke betekenissen voor de kaart. Een goed tarotist hecht daarom geen vaste betekenis aan een kaart. De betekenis komt op het moment van interpretatie vanzelf naar boven. Hiervoor is het wel belangrijk dat men de betekenis van een soort kaart, zijn symboliek en zijn verband tot het deck kent.


______ Soorten
Een van de bekendste en meest gebruikte legpatroon is het Keltisch kruis. Maar dat is zeker niet het enige legpatroon dat er bestaat! Net als het kiezen van een deck is ook het gebruik van legpatronen zeer persoonlijk. De een werkt makkelijker met het Keltisch kruis dan de ander. Om deze reden hebben tarotisten door de eeuwen heen verschillende legpatronen ontwikkeld.


______ Legpatronen
Een legpatroon is de positionering van de kaarten, dus hoe en in welke volgorde de kaarten neergelegd worden en wat iedere plek betekend. Hiervoor bestaan bepaalde "standaarden".
Een legpatroon heeft een vast aantal kaarten. De positie van de kaart en de kaart zelf bepalen samen de betekenis. Dit wil dus zeggen dat naast de betekenis van de kaart er ook nog een betekenis van de positie bestaat.
Laten we eens kijken naar het Keltisch Kruis om het bovenstaande duidelijker te maken.


______ Keltisch kruis
Een van de vele maar meest gebruikte legpatroon is het Keltisch kruis.
Het Keltisch kruis bestaat uit tien posities. Aan de linkerkant het kruis (6 kaarten), aan de rechterkant de 4 overige kaarten. Nadat de kaarten geschud zijn en gekozen zijn, legt men ze in de volgende posities neer: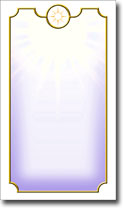 Positie 4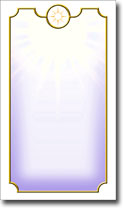 Positie 10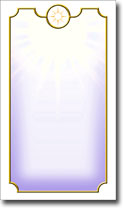 Positie 5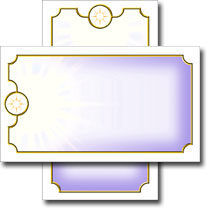 Positie 1 (onder) & 2 (boven)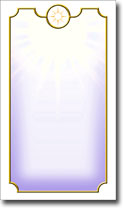 Positie 6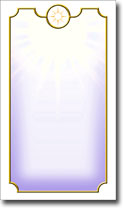 Positie 9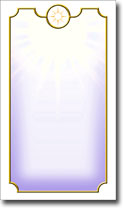 Positie 8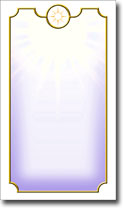 Positie 3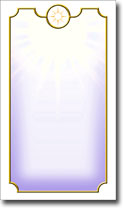 Positie 7

Positie
Betekenis
1
De essentie, hier draait het om
2
Dit kruist het, dit blokkeert de essentie
3
Bewustzijn, dit is de basis van de situatie
4
Onbewuste, gevoelens en vermoeden
5
Het verleden, wat hiertoe heeft geleid
6
De nabije toekomst
7
De vraagsteller, dit is hoe de zoeker het ziet
8
Zo zien anderen het, hier vindt het plaats
9
Hoop en vrees
10
De uitkomst, dit is waar het toe leidt
In bovenstaand overzicht zie je de betekenis van de posities. De kaarten worden door de legger in deze volgorde neergelegd.
De nummers 3 en 4 worden wel eens verwisseld. Men legt dan eerst een kaart boven neer en daarna een kaart onder. Hierdoor verandert de betekenis van de positie niet.
Ergo: naast de betekenis van een kaart is er een betekenis van de positie. Beide beinvloeden elkaar continu. Het is daarom onmogelijk om iedere kaart een vaste betekenis te geven zoal Jean-Baptiste Alliette dat bijvoorbeeld in de 18e eeuw deed. Toentertijd was de link tussen intuitie en kaartinterpretatie nog niet duidelijk.


______ Uitleg
Het Keltisch Kruis is een van de oudste tarotleggingen die we kennen. Het is een vrij uitgebreide legging en daarom geschikt voor allerlei vragen. Zeker wanneer een zoeker een algemeen beeld van zijn huidige situatie, van zichzelf en van zijn toekomst wil zien is het Keltisch Kruis uitermate geschikt.

Alvorens een tarotist het Keltisch Kruis legt, zal deze de zoeker eerst vragen naar wat hij of zij weten wil. Dit kan een vraag zijn maar de zoeker kan ook op zoek zijn naar een bepaalde oplossing voor een probleem of situatie waarin hij of zij zich bevindt. Wanneer de tarotist de kaarten geschud heeft, kan hij de zoeker vragen om hetzelfde te doen. Vervolgens couperen zij de kaarten, of doet een van de twee dit voor hen. De legger spreidt de kaarten op tafel of in zijn hand en laat de zoeker tien kaarten uitzoeken. Deze kaarten worden op volgorde met hun afbeelding naar beneden weggelegd. Een voor een plaatst de tarotist de kaarten in de juiste volgorde, op de juiste positie op tafel. Wanneer de kaarten op hun plek liggen met de beeldzijde naar beneden kan de sessie beginnen. Een voor een zullen de kaarten omgedraaid en besproken worden. Hierin schuilt alleen wel het probleem dat bij het begin van de legging het totaalbeeld niet zichtbaar is. Er zijn daarom tarotisten die kaarten, wanneer men ze in hun positie legt, meteen met de beeldzijde naar boven plaatst. Geheel begrijpelijk kan men zo meteen zien om wat voor situatie het gaat - immers ziet men de overheersende soort kaarten - en kan men het overzicht beter interpreteren.


Positie 1
representeert de zoeker of zijn situatie waarin hij of zij zich op het moment van de legging bevindt. Positie 1 kan daarom omschreven worden als de essentie, hetgeen alles om draait. Wanneer de zoeker een specifieke vraag heeft, kan positie 1 ook de vraag symboliseren. Alle kaarten die gelegd worden refereren naar deze kaart.


Positie 2
ligt met een logische reden bovenop positie 1; het kruist letterlijk de essentie. Doordat het de essentie kruist, wordt deze geblokkeerd en kan deze niet verder. Het kan gaan om een situatie of emotie die geblokkeerd wordt of een persoon die niet verder komt in zijn eigen ontwikkeling. Om tot een oplossing te komen zal er een uitkomst gezocht moeten worden om deze blokkade op te heffen.


Positie 3
kan beschouwd worden als de basis van het probleem (de blokkade). Als houvast wordt deze positie wel eens gekoppeld aan het element aarde. In zich houdt dit element het woord öaardö verscholen wat staat voor de kenmerkende gesteldheid van iets. De kaart die op positie 3 ligt zal verheldering verschaffen over de aanleiding van het probleem en misschien zelfs al wel een oplossing aandragen.


Positie 4
bevindt zich in de sferen van de lucht en vormt daarom ons gedachtegoed over de kaarten van positie 1 en 2. Het is hetgeen wat ons bezighoudt. Het beheerst ons denken en onze emoties en zou het beste omschreven kunnen worden als de zetel van vermoedens.


Positie 5
links van positie 1 ligt de kaart van het verleden. Vaak betreft dit het directe verleden aangezien het gekoppeld is aan de persoon of situatie waar het over gaat. Zoals de kaart van positie 3, bevat ook de kaart van positie 5 een oorzaak of aanleiding voor de blokkade die de persoon of situatie ondervindt.


Positie 6
is gekoppeld aan de nabije toekomst. Het ontsluiert een belangrijk personage of een relevante gebeurtenis die komen gaat, dat betrekking heeft op de gehele situatie. Wanneer deze kaart onvoldoende informatie verleent kan men er voor kiezen om drie extra kaarten te trekken en deze op deze kaart te leggen.


Positie 7
staat voor de vraagsteller en de wijze waarop deze (onbewust) tegen de situatie aankijkt. Deze kaart is verbonden aan de kaart van positie 1, de essentie. Positie 7 kijkt als het ware naar de essentie en reflecteert deze vanuit de belevingswereld van de zoeker.


Positie 8
vertegenwoordigt de visie op de essentie van de zoekers' directe omgeving, voornamelijk partners, vrienden en familie. De kaart van positie 8 kan zo een toelichting geven of onze visie (positie 7) overeenstemt met dat van onze omgeving.


Positie 9
is wat voor hoop en vrees we kennen en voelen rondom de situatie. Maar is deze ook gegrond? Is het een kaart van zwaarden en zijn het slechts onbillijke gedachten die ons zorgen baren? Of moeten we echt uitkijken dat onze vrees onze hoop overheerst en misschien wel waarheid wordt?


Positie 10
treedt op namens het eindresultaat. Met de kaart in deze positie concluderen we de legging en komen tot een uitkomst die vaker positief dan negatief zal zijn.

Na het leggen van de kaarten, het lezen, interpreteren en verwerken van de legging hebben we behoorlijk wat informatie te verwerken. We hebben een schets kunnen maken van een persoon, situatie of vraag. We weten wat er aan ten grondslag ligt, wat het blokkeert en waar het vandaan komt. Uit de legging hebben we kunnen opmaken hoe ons onderbewustzijn er over denkt en wat onze directe omgeving er van vindt. Zelfs een resultaat hebben we kunnen opmaken uit deze uitgebreide legging met tien kaarten. Maar in sommige gevallen zijn deze tien kaarten alleen niet toereikend.


______ Extra kaarten
In sommige gevallen zal de tarotist extra kaarten nodig hebben om een reeds gelegde kaart te verhelderen. In zo'n geval kan een legger er voor kiezen om drie extra kaarten te pakken uit het overgebleven deck of uit dit deck de zoeker er drie te laten selecteren. Deze kaarten worden dan op tafel over de betreffende kaart gelegd. Bijvoorbeeld wanneer de kaart van positie 5 te summier is trekt de tarotist drie extra kaarten en legt deze boven of op de kaart die al op positie 5 ligt. Deze drie extra kaarten geven extra informatie prijs over het verleden, heden en de toekomst in relatie tot de kaart waar ze op liggen. Zo is het mogelijk om van een onvolledig beeld de relatie van de kaart te verduidelijken, verklaren en te plaatsen binnen de context van het verhaal.
Tijdens een tarotsessie komt het wel eens voor dat een legger in zijn deck kijkt. Hij of zij bekijkt een willekeurige kaart om te controleren of hij/zij op het goede spoor zit of om extra informatie te verkrijgen. Deze kaart hoeft niet uit het deck gehaald te worden. Ingeval deze kaart te weinig informatie biedt dan kan er alsnog gekozen worden voor het trekken van drie extra kaarten zoals hierboven verklaard is.


______ Omgekeerd
Omgekeerde kaarten komen uit de tijd van Jean-Baptiste Alliette, die een positieve betekenis voor de kaarten toekende wanneer deze "normaal" lagen en een negatieve betekenis wanneer deze zogezegd op hun kop lagen. Of deze techniek nog steeds gehanteerd wordt, is per tarotist en per systeem verschillend. Het is niet per definitie zo dat iedere kaart die op zijn kop ligt ook negatief geladen is. Sterker nog, er zijn tarotisten die kaarten die omgekeerd liggen gewoon weer normaal neerleggen omdat zij deze techniek niet onderkennen. Een kwestie van goed schudden, toeval en zwaartekracht beinvloeden de kaarten en zou deze techniek te veel kunnen beinvloeden om deze doelmatig toe te kunnen passen.
Rationeel gezien zou men voor iedere legging daarom de kaarten weer uit moeten zoeken en allen in gelijke richting in het deck terug moeten leggen, wil men deze techniek enigszins integer kunnen toepassen.
Zoals al meerdere malen aangegeven is moeten we bij het leggen van de tarot vertrouwen op onze intuitie. Deze maakt zelfs reeds onderscheidt tussen positief en negatief en in dat opzicht zou de techniek van Alliette niet betrouwbaar zijn. Tweemaal negatief maakt namelijk weer positief!


______ Variatie
Op het Keltisch Kruis zoals hierboven beschreven is, bestaan variaties. Zoals in onderstaand afbeelding bijvoorbeeld. Feitelijk maakt het weinig verschil welke van de twee versies je gebruikt omdat ze op hetzelfde neer komen. Als je wil zou je zelfs eigen aanpassingen kunnen doen om zo een legging te creeren die nˇg beter bij je past.

Wat er anders is aan de legging die we eerder hebben besproken, is dat dit Keltische Kruis een extra kaart heeft, namelijk kaart nummer 2. Hij heeft de plaats van onze positie 3 ingenomen en heeft een andere betekenis. Kaart nummer 3 ligt nu naast kaart 1, maar behoudt de betekenis van onze positie 2.
De extra kaart, kaart 2, beduidt in dit geval de situatie die ons leven domineert of de vraag die de vrager stellen wil.
Er is niets mis met het gebruik van deze of enig andere variatie van het Keltische Kruis. Laat je intuitie je leiden in het maken van een keus in de legging die je wilt gebruiken.


______ Dagkaart
Heb je niet zoveel tijd om een uitgebreide legging te doen? Of wil je weten wat je vandaag staat te gebeuren? Dan kun je een dagkaart pakken. Uit het deck trek je een kaart. Natuurlijk zul je zo niet precies te weten komen wat je te wachten staat, maar je zou het kunnen zien als een belangrijke aanwijzing. Het is iets wat zou kunnen gebeuren, iets waar je rekening mee moet of houden of waar je voor op moet passen. Dagkaarten zijn meer bedoeld als richtlijn dan als voorspelling van de hele dag die komen gaat.


______ Drielegging
Als een kaart je niet genoeg is dan kun je in plaats van een dagkaart trekken, een drielegging doen. Een drielegging kan meerdere doelen hebben:
een ochtend, middag en avond legging
een verleden, heden, toekomst leggingOf je bepaalt zelf van te voren de betekenis van de positie.

Nadat je kaarten geschud en\of gecoupeerd heb, trek je drie kaarten. Leg deze vervolgens van links naar rechts naast elkaar neer: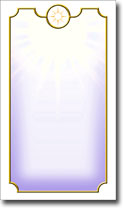 Positie 1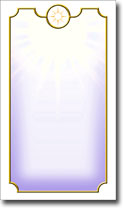 Positie 2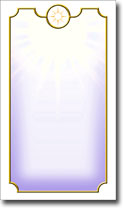 Positie 3
Afhankelijk van de legging die je doet associeer je de kaarten met een positie en betekenis. In een heden, verleden, toekomst legging corresponderen de kaarten vrij simpel als volgt:


Positie 1
Kaart 1
Verleden
Positie 2
Kaart 2
Heden
Positie 3
Kaart 3
Toekomst
De posities van de kaarten en hun betekenis spreken in deze legging voor zich.
Op dezelfde manier kunnen we zo een ochtend, middag en avond legging doen. Misschien heb je zelf wel een eenvoudige doch effectieve legging die je volgens dit systeem zou kunnen toepassen.

Copyright © 2001 - 2023 Book of Shadows - Alle rechten voorbehouden