Book of Shadows
[ Wednesday 27 September 2023 - bijna volle maan - Log in/registreer - Zoeken ]
Home
Nieuws
Gezondheid
Bewustwording
Voeding
Beweging
Pilates
Tai Chi
Yoga
Introductie
Geschiedenis
Stromingen
Yoga van Pranayama
Yoga van Asana
Yoga van Dhyana
Literatuur
Spiritualiteit
Alternatief
Engelen
Introductie
Functies
Literatuur
Gidsen
Introductie
Contact
Oefeningen
Literatuur
Intuitie
Introductie
Helderweten
Helderzien
Helderhoren
Heldervoelen
Helderproeven
Helderruiken
Oefeningen
Literatuur
Kleuren
Re´ncarnatie
Wierook
Introductie
Soorten
Houders
Literatuur
Divinatie
Astrologie
Introductie
Geschiedenis
De Dierenriem
De Drie Pilaren
Literatuur
Numerologie
Pendelen
Introductie
Waarmee
Oefeningen
Literatuur
Runen
Introductie
Runentekens
Literatuur
Tarot
Introductie
Functie
Geschiedenis
Kaarten
Legpatronen
Decks
Oefeningen
Literatuur
Healing
Aura
Introductie
Lagen
Oefeningen
Literatuur
Chakra
Introductie
Kleuren
Oefeningen
Literatuur
Edelstenen
Energie
Reiki
Introductie
Geschiedenis
Grandmasters
Stromingen
Inwijdingen
Graden
Behandeling
Literatuur
Paganisme
Dru´den
Hekserij
Magie
Paganisme
Wicca
Paranormaal
Entiteiten
Ouijabord
Introductie
Borden
Glaasje draaien
Literatuur
Telekinese
Telepathie
Introductie
Documentatie
Oefeningen
Literatuur
Praktijk
Achtergrond
Dienstenaanbod
Tarieven
Reserveren
Contact
Community
Agenda
Columns
Chat
Polls
Forum
Online divinatie
Tarot
Webshop
Contact
Tarot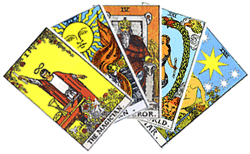 ______ Definitie
[tarot
I m de ~ , troefkaart in het spel tarot
II m oud kaartspel met 78 kaarten
]
______ Introductie
Kijken we in het woordenboek, dan vinden we het woord tarot niet... Kijken we op www.vandale.nl dan vinden we een korte omschrijving:
(II m oud kaartspel met 78 kaarten)
Een kaartspel. Maar wat voor kaartspel dan wel? De bovenstaande omschrijving roept eigenlijk meer vragen op dan dat het antwoorden geeft. Kun je met tarotkaarten klaverjassen? Hoe zien de kaarten er uit? Waarom zijn het 78 kaarten en niet 56? Of zit er meer in dit pakje kaarten dan alleen een spel? En is het waar dat je met tarotkaarten de toekomst kan voorspellen?


______ Wat tarot is
Tarot is een van de vele verschillende maar meest gebruikte orakelmethoden die wij heden ten dagen kennen. Orakelmethode, ook wel aangeduidt als divinatiemethode, wil zeggen dat het een systeem is dat als vraagbaak geraadpleegt kan worden. De tarot kan zo antwoord geven op vragen als wie ben ik, hoe ziet mijn omgeving mij, wat blokkeert mij en hoe ziet de toekomst eruit? Tarot wordt daarom nog veelvuldig gebruikt voor karakter analyses en voor waarzeggingen zoals het voorspellen van de toekomst - hoewel hierover de meningen verdeeld zijn.

De website van "Van Dale" gaf al aan dat tarot bestaat uit een pak van 78 kaarten. Het zogeheten deck - het Engelse woord voor een stapel kaarten - is rijk geillustreerd en varierend van samenstelling. Niet elk deck is exact hetzelfde opgebouwd. Zo is er voor eenieder een deck dat bij hem of haar past.
Al sinds de 14e eeuw worden tarotkaarten gebruikt. In het begin was dat voornamelijk als spel. Ze dienden dus ter vermaak van de mens. Pas later zag men meer in deze fascinerende kaarten. Ze ontdekten (of creeerden misschien wel) een link met holistische systemen als Kabballah, alchemie en Egyptische mysterien. Men ging ze gebruiken voor voorspellingen en zelfontplooiing. Helaas is door de eeuwen heen het oorspronkelijke spel verloren gegaan. Onze nieuwsgierigheid naar deze wonderbaarlijke kaarten met fantasierijke prents is dus niet alleen nu actueel. Blijkbaar is de fascinatie voor de van oorsprong nevenfuncties van het originele spel groter dan de liefde voor het spel zelf.
Het kaartspel tarot wordt tegenwoordig niet meer gespeeld. De kaarten worden enkel en alleen gebruikt om antwoorden te vinden op prangende vragen; tarot als vraagbaak.


______ Kaarten
De tarotkaarten zijn geillustreerde prents die elk een eigen verhaal hebben. Elk verhaal heeft een andere betekenis en geeft zo een andere duiding of antwoord op de gestelde vragen. Laten we eens kijken naar de kaart zes van pentakels:

De kaart toont zes ronde schijven met een pentagram (ster) erop, de zogeheten pentakels. Onder deze pentakels zien we drie mensen; twee mannen zitten geknield op de grond terwijl ze geld krijgen van de staande welvarende figuur, die in zijn linkerhand een weegschaal vast heeft. Op de achtergrond zien we bomen en een gebouw dat een kasteel, een fort of misschien wel een kerk zou kunnen zijn.

Als we van dit schouwspel een verhaal maken, hebben we verschillende opties. Vanuit het perspectief van de welvarende figuur kunnen we zeggen dat hij de twee armen geld schenkt en het zegend. Kijk maar eens goed naar de manier waarop hij het geld laat vallen. Zijn middel- en wijsvinger bij elkaar, ringvinger en pink gebogen. Het teken van zegening zoals ook de Paus en Jesus Christus het gebruiken.
Dit verhaal zou de kaart zes van pentakels dus de betekenis kunnen geven dat er een zegen zal komen. In de vorm van financiele voorspoed of tenminste materialistische progressie.
Maar wat nou als we kijken vanuit de visie van de arme man met de gele omslagdoek. Ontvangt hij het geld of bedelt hij erom? Moet hij op zijn knieen om te kunnen overleven?
Dan is er ook nog de man met de blauwe omslagdoek. Hij ontvangt niets. Vanuit zijn perspectief kan de kaart duiden op het gebrek aan financiele of materiele middelen.

Deze ene kaart kan dus zo maar drie verschillende verhaallijnen bevatten en daarmee drie verschillende betekenissen uitdragen. De sleutel tot de betekenis van een kaart zit in de kaart zelf verborgen. Afhankelijk van je eigen onderbewustzijn interpreteer je een verhaal en daarmee een betekenis. De ene keer wanneer je deze kaart trekt zal je aandacht meteen gaan naar de welvarende persoon en betekent de kaart financiele overvloed of het in staat zijn anderen financieel te helpen. Bij een andere legging kan de kaart betekenen dat je niets krijgt, doordat je onderbewustzijn jouw aandacht vestigd op de man met de blauwe omslagdoek.

De kaarten zijn een soort trigger voor je onderbewustzijn om een link te maken met de kosmos en daar informatie over een persoon of situatie te halen. Tarot helpt je bij het interpreteren van deze informatie. Voordat we op de zaken vooruit lopen; wat is de functie van tarot?


Copyright © 2001 - 2023 Book of Shadows - Alle rechten voorbehouden