Book of Shadows
[ Wednesday 27 September 2023 - bijna volle maan - Log in/registreer - Zoeken ]
Home
Nieuws
Gezondheid
Bewustwording
Voeding
Beweging
Pilates
Tai Chi
Yoga
Introductie
Geschiedenis
Stromingen
Yoga van Pranayama
Yoga van Asana
Yoga van Dhyana
Literatuur
Spiritualiteit
Alternatief
Engelen
Introductie
Functies
Literatuur
Gidsen
Introductie
Contact
Oefeningen
Literatuur
Intuitie
Introductie
Helderweten
Helderzien
Helderhoren
Heldervoelen
Helderproeven
Helderruiken
Oefeningen
Literatuur
Kleuren
Re´ncarnatie
Wierook
Introductie
Soorten
Houders
Literatuur
Divinatie
Astrologie
Introductie
Geschiedenis
De Dierenriem
De Drie Pilaren
Literatuur
Numerologie
Pendelen
Introductie
Waarmee
Oefeningen
Literatuur
Runen
Introductie
Runentekens
Literatuur
Tarot
Introductie
Functie
Geschiedenis
Kaarten
Legpatronen
Decks
Oefeningen
Literatuur
Healing
Aura
Introductie
Lagen
Oefeningen
Literatuur
Chakra
Introductie
Kleuren
Oefeningen
Literatuur
Edelstenen
Energie
Reiki
Introductie
Geschiedenis
Grandmasters
Stromingen
Inwijdingen
Graden
Behandeling
Literatuur
Paganisme
Dru´den
Hekserij
Magie
Paganisme
Wicca
Paranormaal
Entiteiten
Ouijabord
Introductie
Borden
Glaasje draaien
Literatuur
Telekinese
Telepathie
Introductie
Documentatie
Oefeningen
Literatuur
Praktijk
Achtergrond
Dienstenaanbod
Tarieven
Reserveren
Contact
Community
Agenda
Columns
Chat
Polls
Forum
Online divinatie
Tarot
Webshop
Contact
Functie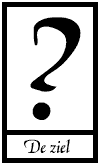 ______ Functie
Sommigen noemen de tarot een weg tot de ziel. Anderen beweren er de toekomst mee te voorspellen. Wat is waar zul je jezelf afvragen? En hoe zit dat met die kosmische link?
Eigenlijk kunnen we beter stellen: wat is de functie van tarotkaarten?

Om de functie van tarot nader te verklaren zul je eerst moeten begrijpen wat er gebeurt tijdens het leggen van tarot kaarten.


______ Sessie
Een tarotsessie, vaak ook een legging genoemd, is voor veel mensen een misterie. Het beeld dat wij hebben van een tarotsessie is bepaald door films, televisie en overige entertainment. Denk bijvoorbeeld aan de zigeunervrouw van de kermis waar men zijn toekomst kunt laten voorspellen. In een klein, oud en schemerig kamertje neem je plaats. Van achter uit de kamer roept ze dat ze zo bij je komt. Onwennig ga je zitten in een krakemikkige stoel. De rimpelige oude vrouw met omslagdoek neemt plaats. Na een lange stilte, waarin ze beweert kontakt te leggen met jouw spirit en met een hoop poes pas eromheen, begint dan eindelijk de lezing. Na tien minuten ligt de eerste kaart op tafel. Geschrokken deinst ze terug en haar rimpellige wijsvinger zweeft door de lucht, tot hij landt op de kaart van de dood. Met een hoop grote gebaren en door zoveel mogelijk jou te laten praten, ontfrutselt ze je alle informatie die ze nodig heeft om vervolgens jouw toekomst te kunnen voorspellen. Wat ze eigenlijk doet is wat we noemen "cold reading" en ze praat jou naar je mond. Verward sta je een kwartier later weer buiten. Eerst denk je nog dat ze met heel veel dingen die ze zei goed zat. Een dag, een week, een maand later is er niets van haar voorspellingen uitgekomen.

Tarot heeft voor velen nog steeds dit negatieve beeld. Sommige religies verbieden of ontkennen de kaarten zelfs. Het hierboven geschetste beeld is veel theatraler dan de werkelijkheid. De entertainmentwereld maakt van een tarotlegging vaak een idealisatie of zoals in bovenstaande voorbeeld juist een overdreven stukje theater waarin alles opgeblazen wordt. Laat je al het theatrale weg dan hou je de basis van tarot over. Een heel simpele constructie eigenlijk. Een zoeker en een legger en een stapel kaarten die je antwoorden geven.

De zoeker, degene waar de kaarten voor gelegd worden en dat kan dus ook de legger zelf zijn, heeft een vraag. De legger zal de kaarten schudden. Hij zal dan de persoon waarvoor de kaarten gelegd worden vragen om de kaarten ook te schudden en/of te couperen, terwijl zij zich beiden op de vraag concentreren. De legger spreidt dan de kaarten op tafel of in de handen uit en vraagt de zoeker een aantal kaarten te pakken. Dit aantal is geheel afhankelijk van het legpatroon. (Zie het hoofdstuk over leggingen.)
Voor een dagelijkse legging zijn bijvoorbeeld 3 kaarten voldoende. De legger legt de kaarten volgens het betreffende legpatroon op tafel en draait ze een voor een om. Afhankelijk van hoe duidelijk de kaarten zijn zal de tarotist een situatie schetsen en vragen of de zoeker zich hierin kan identificeren. In de loop van de sessie zal er een gesprek op gang komen. De legger probeert inzicht te krijgen in de situatie en geeft de persoon daarbij tips, aanwijzingen en antwoorden. Antwoorden die de kaarten zichtbaar maken.


______ Spiegel
Wanneer een tarotist, een tarotkaarten legger of legster, kaarten legt wil deze van de zoeker weten of deze een vraag heeft of met een kwestie zit waar een antwoord op gevonden moet worden. Veelal vraagt de client: hoe ziet mijn toekomst eruit?
In een sessie waarin de tarotist de kaarten leest, wat kan varieren van 5 tot 90 minuten, zal er zeker over de toekomst gesproken worden. Maar dat is veelal niet het doel van het leggen van de tarot. Het grootste gedeelte van het gesprek (want dat is het in feite) gaat over het hier en nu. Vaak zitten mensen met bepaalde problemen die voortvloeien uit aspecten van hun karakter, karma of uit een situatie waarin ze zich bevinden. Er wordt dan gekeken naar hoe sta je in het leven en wat stimuleert en wat weerhoudt je ervan om te evolueren. En dat kan betrekking hebben op elk aspect van het leven: werk, liefde, gezondheid, etc.
Een tarotlezing kan erg confronterend zijn. De mensheid is zich nou eenmaal veelal niet bewust van vele karaktertrekken die zij bezit. Zo wordt door de tarot als het ware een spiegel voor gehouden; de spiegel tot de ziel.

Het is dus zo dat mensen komen om een glimp van de toekomst op te vangen en weggaan met het idee iets aan hun problemen te doen. Zo werk je eigenlijk aan een zonnigere toekomst.


______ Maatschappelijk werk
De tarot geeft vaak de oorzaak van bepaalde problemen weer. Ze wijst mensen vaak op dingen die ze doen, maar zelf niet in de gaten hebben. Als tarotist (maar eigenlijk meer als mens) wil je jouw zoeker niet alleen op dingen wijzen en hem of haar vervolgens met een rot gevoel naar huis laten gaan. Je wil natuurlijk dat hij of zij wat aan zijn of haar problemen gaat doen. Je kunt naast de kaarten te vragen wat de zoeker zou kunnen doen, ook zelf advies uitbrengen. Als tarotist ben je dan eigenlijk ook een beetje een maatschappelijkwerker. Het gebeurt vaker dan eens dat een tarotist de spijker op z'n kop slaat en degene waarvoor kaarten gelegd worden spontaan in tranen uitbarst. Tarotkaarten weten wat ze zeggen en kunnen gevoelige snaren raken...


______ Meer negatief dan positief
Dit laatste klonk natuurlijk allemaal een beetje grauw. Tarotkaarten hebben echt niet altijd zulke zware dingen te melden. Tarot weerspiegelt je ziel en mensen zoeken eerder hulp, ondersteuning en bevestiging wanneer zij ergens mee zitten dan als ze zich helemaal goed voelen. Dus voor hetzelfde geld kun je de persoon waar je kaarten voorlegt vertellen dat er een baby opkomst is, liefde nabij is, vrienden gemaakt zullen worden en ga zo maar door.


______ Kies je woorden zorgvuldig!
Let wel op wat je zegt en hoe je het brengt. Als je in de kaarten ziet dat er een baby opkomst is, en je weet niet zeker of de baby voor de zoeker bestemd is en zij misschien wel helemaal geen baby wil, roep dan niet: "He! Je bent zwanger!".
De beste tarotsessies bestaan uit gesprekken. Stel je client vragen en zorg dat het een continu gesprek blijft. Om terug te komen op het voorbeeld van de baby, vraag haar bijvoorbeeld: "Heb jij wel eens aan kinderen gedacht?" Of vraag haar: "Zouden jij en je man kinderen willen?" Zo kun je haar (en haar man) voorbereiden op het idee dat zij wel eens zwanger zou kunnen zijn.


______ Waar en wanneer
Tarot kaarten kun je zowel voor anderen als voor jezelf leggen. Veel mensen vinden het echter moeilijk om de kaarten voor zichzelf te leggen. Dit is ook erg begrijpelijk als je het bovenstaande in gedachten houdt: een goede leggen bestaat uit een gesprek tussen tarotist en zoeker. De zoeker heeft een vraag, de legger schetst een situatie maar zal vaak gedeeltes van het verhaal missen en de zoeker om verheldering vragen. Wanneer er antwoorden, suggesties of voorspellingen naar boven komen, zal de zoeker ze een plek moeten geven. Zo kom je samen tot een totaal plaatje wat accurater zal zijn, dan wanneer een tarotist alleen vertelt wat hij/zij ziet of leest.
Als je zelf legger en zoeker bent wordt het vaak moeilijk om tegelijkertijd te interpreteren en het op jezelf te betrekken. Het is echter niet onmogelijk om kaarten voor jezelf te leggen. Men zegt niet voor niets: oefening baart kunst.


Copyright © 2001 - 2023 Book of Shadows - Alle rechten voorbehouden