Book of Shadows
[ Wednesday 27 September 2023 - bijna volle maan - Log in/registreer - Zoeken ]
Home
Nieuws
Gezondheid
Bewustwording
Voeding
Beweging
Pilates
Tai Chi
Yoga
Introductie
Geschiedenis
Stromingen
Yoga van Pranayama
Yoga van Asana
Yoga van Dhyana
Literatuur
Spiritualiteit
Alternatief
Engelen
Introductie
Functies
Literatuur
Gidsen
Introductie
Contact
Oefeningen
Literatuur
Intuitie
Introductie
Helderweten
Helderzien
Helderhoren
Heldervoelen
Helderproeven
Helderruiken
Oefeningen
Literatuur
Kleuren
Re´ncarnatie
Wierook
Introductie
Soorten
Houders
Literatuur
Divinatie
Astrologie
Introductie
Geschiedenis
De Dierenriem
De Drie Pilaren
Literatuur
Numerologie
Pendelen
Introductie
Waarmee
Oefeningen
Literatuur
Runen
Introductie
Runentekens
Literatuur
Tarot
Introductie
Functie
Geschiedenis
Kaarten
Legpatronen
Decks
Oefeningen
Literatuur
Healing
Aura
Introductie
Lagen
Oefeningen
Literatuur
Chakra
Introductie
Kleuren
Oefeningen
Literatuur
Edelstenen
Energie
Reiki
Introductie
Geschiedenis
Grandmasters
Stromingen
Inwijdingen
Graden
Behandeling
Literatuur
Paganisme
Dru´den
Hekserij
Magie
Paganisme
Wicca
Paranormaal
Entiteiten
Ouijabord
Introductie
Borden
Glaasje draaien
Literatuur
Telekinese
Telepathie
Introductie
Documentatie
Oefeningen
Literatuur
Praktijk
Achtergrond
Dienstenaanbod
Tarieven
Reserveren
Contact
Community
Agenda
Columns
Chat
Polls
Forum
Online divinatie
Tarot
Webshop
Contact
Waarmee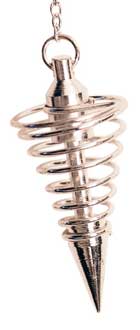 ______ Waarmee pendel je?
Om te pendelen kan je heel simpel beginnen. Je neemt een stukje garen of een touwtje en knoopt aan een van de uiteindes een ring, een paperclip, een sleutel of een ander klein voorwerp. De enige voorwaarde is, is dat het voorwerp een beetje evenwichtig hang en dus het liefst puntvormig is. Je bent nu klaar om te beginnen!


______ Echte pendel
"Is dat alles?" zal je je afvragen. Ja! Dat is alles wat je nodig hebt om te pendelen. De meeste mensen gebruiken echter iets anders dan een sleutel aan een touwtje. Zij schaffen zich een pendel aan. Deze is vaak gemaakt van koper, zilver, goud of bergkristal. Hij is in de meeste gevallen puntvormig en hangt aan een ketting van goud, zilver of koper.
Uiteindelijk is zoĺn "echte" pendel niet beter dan jouw kettinkje met een sleutel of je (trouw)ring eraan. Het gaat om de intentie en het gevoel dat je er zelf in stopt. Kies daarom voor een pendel, wat voor materiaal en vorm dan ook, waar jij jezelf het prettigst bij voelt.


Copyright © 2001 - 2023 Book of Shadows - Alle rechten voorbehouden