Book of Shadows
[ Wednesday 27 September 2023 - bijna volle maan - Log in/registreer - Zoeken ]
Home
Nieuws
Gezondheid
Bewustwording
Voeding
Beweging
Pilates
Tai Chi
Yoga
Introductie
Geschiedenis
Stromingen
Yoga van Pranayama
Yoga van Asana
Yoga van Dhyana
Literatuur
Spiritualiteit
Alternatief
Engelen
Introductie
Functies
Literatuur
Gidsen
Introductie
Contact
Oefeningen
Literatuur
Intuitie
Introductie
Helderweten
Helderzien
Helderhoren
Heldervoelen
Helderproeven
Helderruiken
Oefeningen
Literatuur
Kleuren
Re´ncarnatie
Wierook
Introductie
Soorten
Houders
Literatuur
Divinatie
Astrologie
Introductie
Geschiedenis
De Dierenriem
De Drie Pilaren
Literatuur
Numerologie
Pendelen
Introductie
Waarmee
Oefeningen
Literatuur
Runen
Introductie
Runentekens
Literatuur
Tarot
Introductie
Functie
Geschiedenis
Kaarten
Legpatronen
Decks
Oefeningen
Literatuur
Healing
Aura
Introductie
Lagen
Oefeningen
Literatuur
Chakra
Introductie
Kleuren
Oefeningen
Literatuur
Edelstenen
Energie
Reiki
Introductie
Geschiedenis
Grandmasters
Stromingen
Inwijdingen
Graden
Behandeling
Literatuur
Paganisme
Dru´den
Hekserij
Magie
Paganisme
Wicca
Paranormaal
Entiteiten
Ouijabord
Introductie
Borden
Glaasje draaien
Literatuur
Telekinese
Telepathie
Introductie
Documentatie
Oefeningen
Literatuur
Praktijk
Achtergrond
Dienstenaanbod
Tarieven
Reserveren
Contact
Community
Agenda
Columns
Chat
Polls
Forum
Online divinatie
Tarot
Webshop
Contact
Pendelen
______ Introductie
Deze eeuwenoude voorspellingstechniek is een van de simpelste manieren om antwoord te krijgen van hoger af. De pendel geeft een duidelijke reactie, die ofwel ja, ofwel nee kan betekenen. Pendelen, ook wel radiŰsthesie genoemd, vereist geen speciale gaven of dure voorwerpen. Dit heeft als gevolg dat iedereen kan pendelen, met eigen huis-, tuin- en keukenvoorwerpen. Je kunt eigenlijk zo aan de slag. Een stukje theorie en dan gauw door naar de praktijk!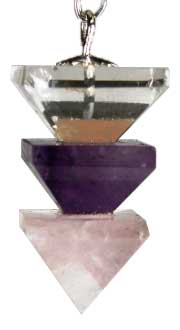 ______ De pendel
Een pendel is een (puntvormig) gewicht aan een draad. Dit kan een paperclip, een ring met steen of een sleutel zijn. Zolang het maar aan een draad hangt, enigszins gewicht heeft en het liefst een punt omlaag heeft hangen.


______ Orakel
Pendelen is een simpele manier om contact te maken met het hogere en antwoorden te vinden op vragen. Je neemt de pendel tussen je vingers en stelt een vraag. De manier waarop de pendel slingert is het antwoord. Een voorbeeld:

Nienke heeft het kettinkje van de pendel tussen haar vingers. Ze zorgt er eerst voor dat ze de pendel recht omlaag en stil heeft hangen. Vervolgens spreekt ze met de pendel af welke beweging voor het antwoord "ja" staat en welke beweging voor het antwoord "nee". Dat doet ze door zich allereerst op het woord "ja" te concentreren. De pendel zal dan gaan bewegen, bijvoorbeeld heen en weer, van links naar rechts. Ze hangt de pendel weer stil en denk vervolgens aan het woord "nee". De pendel zal weer gaan slingeren, maar nu op een andere manier. Dat kan bijvoorbeeld van voor naar achteren zijn of een draaiende beweging. In Nienkeĺs geval is het van voor naar achteren. Nu ze weet welke beweging van de pendel voor het antwoord "ja" staat en welke voor "nee" kan ze beginnen.

Nienke heeft op dit moment ÚÚn brandende vraag: doe ik er goed aan om voor die CommerciŰle Economiestudie te gaan. Ze herhaalt deze vraag voor zichzelf, zowel hardop als in gedachten. Nienke concentreert zich op de vraag en langzaam begint de slinger te bewegen. Hij begint een beetje doelloos te slingeren, maar er komt een continue beweging uit voort: de slinger gaat van voor naar achter. De pendel heeft zijn antwoord gegeven. Het is niet een beste keuze om voor de CommerciŰle Economiestudie te gaan. Maar wat moet Nienke nu? Ze pakt een vel papier, verdeelt het papier in vakjes en noteert een aantal studies die ze als twee keus in gedachten had.
Door de pendel boven elk vakje te houden en de vraag te stellen "doe ik er goed aan om deze studie te volgen?" kan de pendel helpen bij het maken van een moeilijke keus.


______ Ja, nee of misschien
De pendel is een orakelmethode die alleen gebruikt kan worden bij ja/nee vragen. Ingewikkelde vraagstukken of problemen kun je er niet mee oplossen. Een slinger geeft heel duidelijk ja of nee aan. Er zijn mensen die ook met hun pendel een "misschien-beweging" afspreken. Als we een antwoord krijgen dan is het enige nuttige en sluitende antwoord een ja of een nee. Zodra de pendel een onduidelijke beweging maakt, dan is de tijd er nog niet rijp voor om het antwoord al te weten.


______ Meerkeuze
Gelukkig kun je met het antwoord "ja" ook meerkeuze vragen beantwoorden. Dit klinkt een beetje gek maar het werkt als volgt:
Stel je voor, je legt voor je op tafel een papiertje met daarop een (halve) cirkel getekend, verdeelt in vakjes. Deze vakjes kun je nummeren, bijvoorbeeld 1 t/m 5. In Nienke's geval, had ze nog een aantal studies in gedachten die haar ook wel leuk leken. Deze studies waren:

International Business and Languages
Small Business & Retail Management
e-Business, Commerce en i-Business
Management, Economie en Recht
Vastgoed en MakelaardijAan ieder vakje, verbindt ze een studie. Zo staat vakje 1 voor International Business and Languages, vakje 2 voor Small Business & Retail Management, etc.
Door de pendel in het midden van de (halve) cirkel te houden en zich te concentreren op de vraag "Welke studie kan ik het beste volgen?" kan Nienke alsnog tot een goed alternatief komen. Bij het stellen van de vraag, zal de pendel in een bepaalde richting bewegen, boven een bepaald vak. Dit vak heeft een nummer, het nummer correspondeert bij een antwoord!

Hetzelfde kun je dus doen met de meest uiteenlopende meerkeuze vragen. Hieronder vind je een voorbeeld van een pendelkaart die je kunt gebruiken als je je niet lekker voelt. Als je bijvoorbeeld buikpijn hebt en je wilt een edelsteen gebruiken, om de buikpijn tegen te gaan, dan kan je pendel je helpen bij het kiezen van de steen. Je pendel houdt je boven de gele stip en je vraagt je pendel om een goede steen tegen je buikpijn aan te wijzen!


Copyright © 2001 - 2023 Book of Shadows - Alle rechten voorbehouden