Book of Shadows
[ Friday 8 December 2023 - verdwijnende maan - Log in/registreer - Zoeken ]
Home
Nieuws
Gezondheid
Bewustwording
Voeding
Beweging
Pilates
Tai Chi
Yoga
Introductie
Geschiedenis
Stromingen
Yoga van Pranayama
Yoga van Asana
Yoga van Dhyana
Literatuur
Spiritualiteit
Alternatief
Engelen
Introductie
Functies
Literatuur
Gidsen
Introductie
Contact
Oefeningen
Literatuur
Intuitie
Introductie
Helderweten
Helderzien
Helderhoren
Heldervoelen
Helderproeven
Helderruiken
Oefeningen
Literatuur
Kleuren
Re´ncarnatie
Wierook
Introductie
Soorten
Houders
Literatuur
Divinatie
Astrologie
Introductie
Geschiedenis
De Dierenriem
De Drie Pilaren
Literatuur
Numerologie
Pendelen
Introductie
Waarmee
Oefeningen
Literatuur
Runen
Introductie
Runentekens
Literatuur
Tarot
Introductie
Functie
Geschiedenis
Kaarten
Legpatronen
Decks
Oefeningen
Literatuur
Healing
Aura
Introductie
Lagen
Oefeningen
Literatuur
Chakra
Introductie
Kleuren
Oefeningen
Literatuur
Edelstenen
Energie
Reiki
Introductie
Geschiedenis
Grandmasters
Stromingen
Inwijdingen
Graden
Behandeling
Literatuur
Paganisme
Dru´den
Hekserij
Magie
Paganisme
Wicca
Paranormaal
Entiteiten
Ouijabord
Introductie
Borden
Glaasje draaien
Literatuur
Telekinese
Telepathie
Introductie
Documentatie
Oefeningen
Literatuur
Praktijk
Achtergrond
Dienstenaanbod
Tarieven
Reserveren
Contact
Community
Agenda
Columns
Chat
Polls
Forum
Online divinatie
Tarot
Webshop
Contact
Houders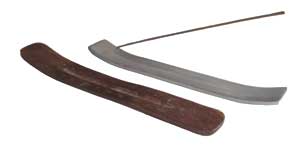 ______ Intro
Een wierook stokje of kegeltje plaats je gemakkelijk in een plantenbak, maar echt mooi staat het niet. Daarom zijn er volop wierook houders verkrijgbaar. Van houten dozen, tot (edel)stenen houdertjes. Wat gebruik je waarvoor?


______ Staafjes
Voor staafjes zijn er mooie wierookdoosjes. Onderin zit vaak een klepje zodat je de wierook in de doos kan bewaren. De bovenkant van de doos kun je openklappen. In de zijkant zit dan een gaatje waar je het wierookstokje in kunt steken. De as valt zo netjes in het doosje en je weet altijd waar je jouw wierookstokjes gelaten hebt!

Net als de wierook zelf, zijn de doosjes er in allerlei maten en kleuren te koop. Van een simpele houten, tot een design wierookdoos.

Kleiner en simpeler zijn de wierook plankjes. Sommige helemaal plat, andere iets gebogen, weer anderen met een klein beeldje erop, dat het wierookstokje draagt.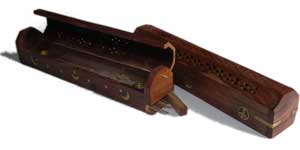 ______ Kegeltjes & Spiraaltjes
Kegeltjes plaats je op een speciaal "schoteltje" met een kuiltje in het midden. In het kuiltje staat het kegeltje stevig en kan de as eromheen vallen. Vaak zijn er ook combinatieschoteltjes te koop. Dan zit er in het midden een cirkeltje voor het kegeltje, en eromheen vind je kleine gaatjes waar je wierookstokjes in kunt steken. Ook de spiraaltjes zijn, mits het schoteltje groot genoeg is, hierop te branden. Makkelijker is eigenlijk om een spiraaltje in een schaal te branden.


______ Schalen
Er zijn veel soorten schalen te koop. Vooral Chinese en Tibetaanse schaaltjes zijn erg populair. In de doorsnee spirituele winkel zie je ze niet zo veel, maar als je eens gaat kijken bij een Chinese toko, daar vind je ze volop. Behalve een dergelijk koperen of tinnen schaaltje kun je ook een grote schalen kom nemen, of een mooie kleine couldron.


Copyright © 2001 - 2023 Book of Shadows - Alle rechten voorbehouden